By Nina Smith – Founder & Director TravelPaws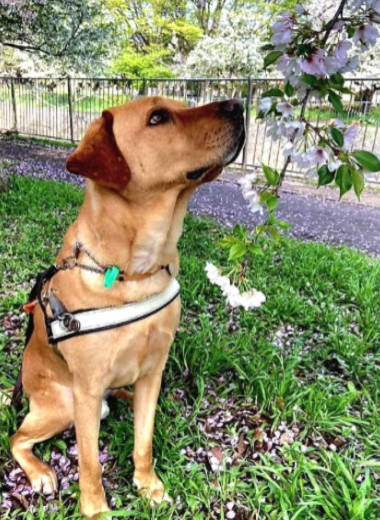 I'm certainly no stranger to visiting Japan. Having lived, worked and studied here in my younger years, I had acquired a certain degree of knowledge and experience that took me places and gave me confidence. I lived with a host family during that time and have travelled back and forth over the years, staying with them each time.
When I returned with my Assistance Dog Nixon four years ago and again in March/April this year, it was a whole new experience that luckily, came with minimal challenges. From public transport to restaurants and local attractions, we together navigated our way around the bustling city of Tokyo during our two weeks stay. I could only do Japan now with him close by my side.
I highly recommend a visit during Cherry Blossom Season (Ohanami), when the spring weather brings about comfortable weather and the most amazing pink cherry blossoms that come to life across the city.
Airport Quarantine
Clearing quarantine for Japan with Nixon was a smooth process and didn't take too much time. In fact, getting him into Japan was much quicker than my own process which was time consuming due to post-COVID systems still in place.
As for my pre-clearance back into Australia, there were some slight issues with incomplete forms. They were discovered only after I questioned if I had everything in place. I noted this and reminded myself to always get confirmation from each authority as I go.
Accessibility
Utilising public transport is the fastest and most convenient way to get around Tokyo. Their extensive train and bus systems are working round the clock with much of the population accessing it. https://www.travelpaws.org/countries/japan/getting-around/
Nixon was his usually cool and collected self, ushering me through heavy foot traffic and up staircases onto the train station platforms (You'll find in general, if there is no elevator, there is either an escalator or stairs).
Having a visual as well as audio announcement of each station stop on the train really helped our navigation, and it was in Japanese as well as English. Most train carriages also have a disabled area.
I really should also mention the standard Japanese etiquette of keeping to your left when moving about including walkways, going up escalators and staircases. When you consider the population of the city, including having the world's busiest train station in Shinjuku, it was an absolute blessing for me and Nixon.
You can find more information about Japanese etiquette here on TravelPaws: https://www.travelpaws.org/countries/japan/etiquette/
Another noticeable thing is how quiet passengers are, keeping their talking to a minimum. This meant I could hear when my stop was coming up and prepare accordingly.
You will find the bus lines are very similar and also have seats in the front which are accessible.
City Attractions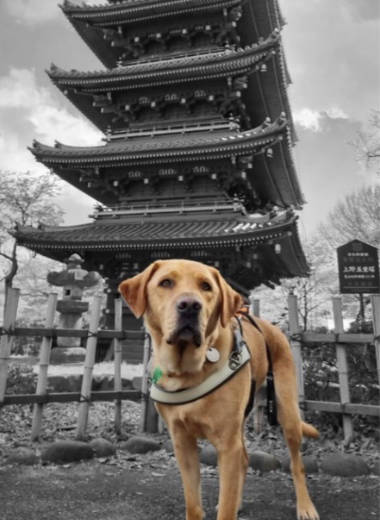 My host family planned a day at Tokyo's Ueno Zoo. We called ahead to check the requirements for bringing Nixon, as I never just assume he's going to have access anywhere and everywhere.
The Zoo was quite busy as it was spring break, and kids were still on holiday. With long lines, we just had to endure the wait like everyone else but again, the crowds moved in uniform, and we were through in no time. Nixon loved the animals and was hugely engaged.
Another visit we did was out to Jindaiji Temple. We caught the bus for this trip and walked to a popular soba restaurant with indoor tatami matting and outdoor tables next to a pond. It was a lovely location with delicious food.
From here the short walk to the temple along streets of blooming cherry blossom was stunning. While Nixon is always doing an incredible job of guiding me, I could tell his senses were in overdrive and he soaked up the sounds and smells all round.
Dining in restaurants
My only concern when entering a restaurant was knowing too well that many people have probably never laid eyes on an Assistance Dog before and may not understand that there are laws regarding this. For that reason I made sure they were happy to seat us each time. I bought my Japanese Assistance Dog pamphlets in case, which you will find on this page: https://www.travelpaws.org/countries/japan/public-access-laws/
I also wanted to make sure Nixon had space to comfortably lie down, as many establishments can be a tight squeeze. Ultimately, the only issues I ended up having, were based on space rather than rejection.
Overcoming the language barrier
Finally, the language can be a slight barrier as many people speak only limited English. Knowing a few phrases can help a lot, and giving hand gestures usually goes a long way in communicating something. Don't be afraid to ask for help as you will usually find a polite helping hand when needed.
https://www.travelpaws.org/countries/japan/handy-language/
Toileting
Big cities like Tokyo occasionally make it hard to find a good spot to toilet Nixon. There are parks around, but they are not always in a vicinity. So I tried to toilet him when the chance arose, even if he had not long gone. We did find some of the sidewalks had garden beds and usually a very small spot of grass to utilise. With a bit of patience, he was able to do his thing. Overall, we managed toileting just fine.
A splendid visit to Tokyo
Japan proved to be a successful and wonderful visit for myself and Nixon. We were given a warm welcome and I can't really say we had any issues with getting into restaurants, stores and even taxis.
Tips for Handlers in Japan
Look for a vet in Japan who has experience with export health certificates or is willing to help you through the process. I use Daktari Animal Hospital – the staff speak English. The contact details are:

Tokyo Medical Center: 2F.
5-14-1 Shirokanedai, Minato-ku
Tokyo
Phone +813-5420-0012
www.daktari.gr.jp/en/
keneki@daktari.gr.jp

Learn some basic phrases to help get the point across
Plan your day ahead in regard to where you plan to go, which trains or buses you'll need to take and where the dog toileting spots are
More information can be found on our TravelPaws website at https://www.travelpaws.org/countries/japan/