Experiencing authentic traditional Japanese cuisine is reason enough to travel all the way to Japan. For those interested in high-dining, Japan has three of the top ten cities with the most Michelin stars in the world (#1 Tokyo, #2 Kyoto, #4 Osaka). For those interested in more budget-friendly options, the culture of eating and drinking with co-workers in the evening has created thousands of izakaya – or Japanese style pubs – across the country. Japan is a foodie's delight.
However, foodies with disabilities still face many barriers when trying to find accessible restaurants.
Before you go
Japanese food is typically eaten with chopsticks, but chopsticks can be very difficult – if not impossible – to use by people with disabilities affecting their hands.
With more and more foreign tourists visiting Japan, it is now much more common for restaurants to have a fork or spoon available for those who cannot use chopsticks. However, this is still often not the case. Many restaurants will either not have western utensils, and if they do have them, they may be child-sized versions for kids. This is particularly true for sushi restaurants. We recommend that you carry a set of utensils with you when traveling. You can buy a package of disposable forks/spoons at most 100 yen shops or you can ask the clerk at a convenience store for one after a purchase. However, the best option might be to buy a travel set like this one from Amazon: Sistema To Go Collection 4 Piece Cutlery Set
.
Drinking straws are typically available, but, again may be to small to reach the bottom of a beer. You may want to carry a few straws with you just in case.
Bonus
If you want to try your hand at chopsticks, but don't have the dexterity, there are still a few options.
FUN CHOP Chopstick Helper
, or alternatively Pro Chops
, are options that are very portable. They are a small piece of molded plastic that can turn almost any pair of chopsticks into a pair of tongs by sliding the chopsticks provided by the restaurant into the slots and squeeze to pick up food. However, some users have said that they had trouble at restaurants in Japan since the chopsticks were either too thin or too thick to properly fit into the slots.
Though slightly bigger to carry, there are a number of options for assisted chopsticks that are full chopsticks and don't rely on the chopsticks provided by the restaurant.  This way you can get used to them before you leave and don't need to worry about any surprises or incompatibilities.  Items like Compac Holdstix
or Edison Training/Helper Chopsticks
might better serve your needs.
Carrying these items can make the difference between a great dining experience – be sure to pack them!
Finding a place to eat
Finding accessible restaurants in Japan can be very difficult. The small buildings, cramped interiors, and use of steps like the genkan can make many restaurants completely inaccessible. This unfortunately seems to be the case for traditional Japanese restaurants more so than Western imports.
While it is possible to wander around until you find something, we suggest you use GURUNAVI ("Gourmet Navigation"). It is a Japanese website similar to Yelp! and lists thousands of restaurants in both Japanese and English.
The key to using it to find accessible restaurants is unfortunately slightly hidden.
After you have made a search like "shinjuku sushi", scroll down until you see "Search Features" on the left-hand side.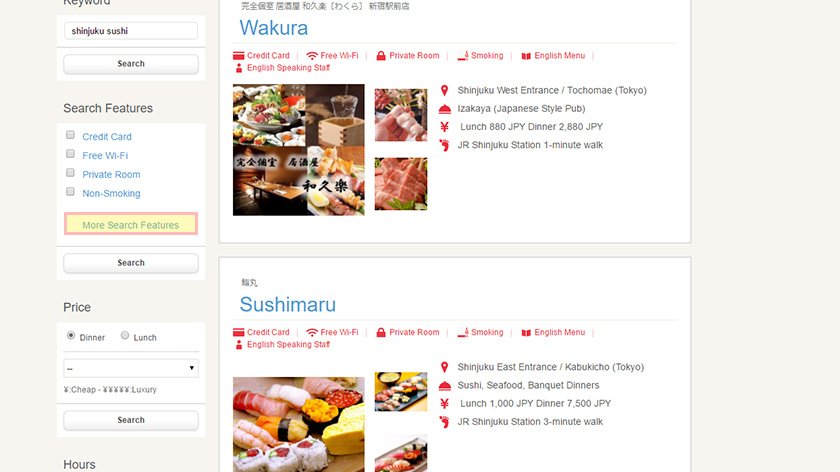 Clicking "More Search Features" will bring up window where you can select "Wheelchair Accessible" and/or "Wheelchair Toilet". Clicking "Set" will narrow down the search to restaurants that are wheelchair accessible.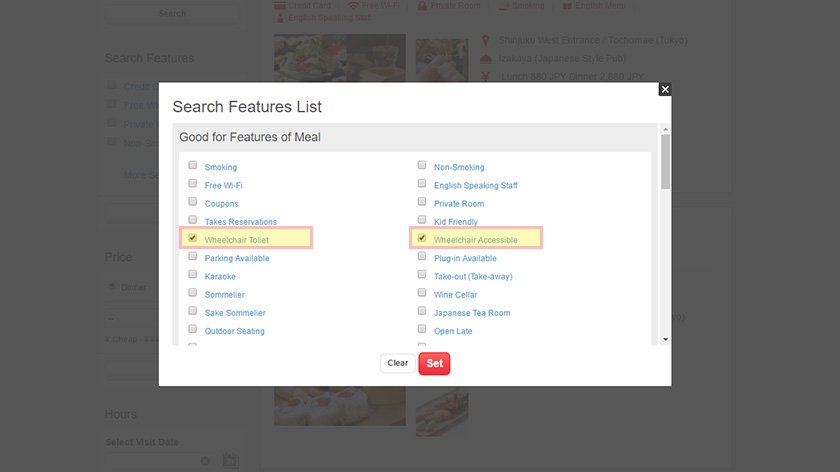 Keep in mind that setting accessibility on the website is largely up to the restaurant and therefore may not be 100% able to meet your needs.