Have questions about traveling in Japan? 
Take a look at some of our frequently asked questions.  If you cannot find an answer to your question here, please ask it in our forum!
For phrases about allergies, be sure to check out our essential phrases page.
If you cannot find what you are looking for, please ask us in the forums.
Unfortunately, you may have challenges both with entering and seating.
Many restaurants in Japan have a step or two at the entrance or are located in buildings without elevators.  They are often also very small and may not have room for a wheelchair.  Some restaurants, usually ramen restaurants, have fixed seats at a counter that cannot be removed.
Please read our page about finding accessible restaurants in Japan.
More and more restaurants have western cutlery and can provide a fork or spoon if needed.  Most often have straws as well.  However, both the cutlery and straws can be intended for children and therefore very small.
Restaurants serving noodles or sushi are less likely to have western cutlery.
Our accessible restaurants page provides some suggested solutions.
Accessible toilets, sometimes called multipurpose toilets, are fairly common in Japan.  
Almost every department store or shopping mall will have one as will train and subway stations.  If the toilet is on the other side of the ticket gate, the staff will let you use it if you ask.
Many accessible toilets in Japan have special colostomy/ostomy bag sinks. Look for this mark: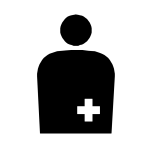 If you have any questions that are not addressed here, please ask in our forum.  We often reply within 24hrs.
If you have a question to ask, you can ask in the forum and Josh will usually be the one to answer.  If you just want to say "hi", you can follow Josh on Twitter.
For media inquires, please visit our media inquiries page.