Mobility Scooters in Japan
---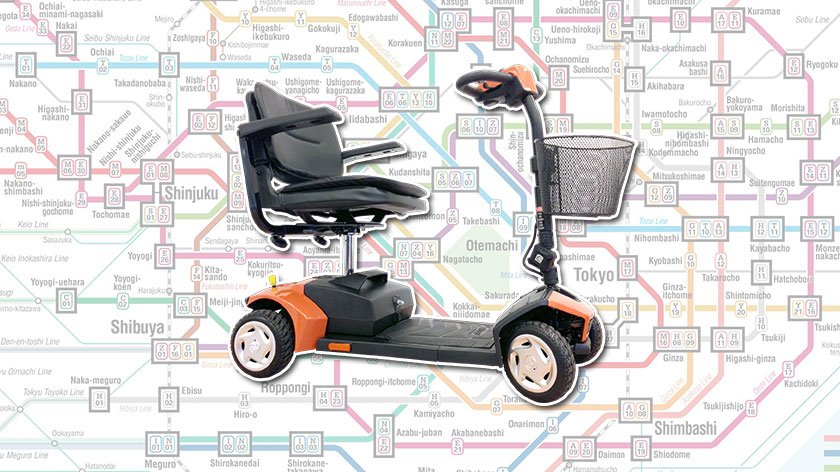 While mobility scooters have been gaining popularity around the world as an alternative to traditional wheelchairs, Japan has been slow to follow. Mobility scooters are not common at mobility goods providers and, as such, very few people own them in Japan. This rarity makes it hard for many institutions in Japan to recognize mobility scooters as legitimate mobility devices for people with disabilities.
Due to the crowds on trains and at train stations, rail companies have also been concerned about the maneuverability of mobility scooters (for example, getting out of a crowded train on a scooter may take extra turns when compared to a wheelchair, taking more time, requiring more people to move etc) and have been strict regarding what they refer to as "handle-type wheelchairs." Here is an excerpt from Japan Rail West's website:
JR-WEST provides service only for passengers that fall into one of the following categories regarding handle-type electric wheelchairs.
Customers who, according to the complementary equipment benefits system or the complementary equipment expenses allowance system based on Japanese law, including the "Law for the Welfare of People with Physically Disabled," the "Child Welfare Act," or the "Services and Supports for Persons with Disabilities Act," truly rely on the use of a handle-type electric wheelchair and who have received benefits or a complimentary equipment allowance.
Customers who, according to the nursing insurance system based on Japanese law, specifically the "Public Nursing Care Insurance Law," have been deemed as truly reliant on the use of a handle-type electric wheelchair and who have been lent a handle-type electric wheelchair.
Essentially, users must prove that their mobility scooter is needed as a mobility device due to a disability, based on Japanese law. Unfortunately, no one visiting from a foreign country will have those exact documents.
Application of the rules, however, is left mostly to the discretion of the staff at the station. This means some staff won't blink an eye and offer help, others may ask for the above proof, still others may call their boss etc. and take the scooter separately like Maureen T. Corrigan experienced.
In general, it seems that most of the problems come from Japan Rail, while the private rail lines seem less concerned. We at Accessible Japan can only suggest that you get your local disability identification card, or a letter from your physician, translated into Japanese so that you have something available to show station staff if requested.
With the coming Tokyo Olympics and foreign visitors using a variety of mobility aids coming in larger numbers, the rail companies are being pressured to rethink their policies from various advocacy groups. Japan rail has an inquiry form that we suggest you use to show your desire to travel freely in Japan with your mobility scooter. Please use the form here:
https://entry.jr-odekake.net/webapp/form/18112_quab_1/index.do
We would love to share stories of your experiences in Japan with a mobility scooter. Sharing these stories on the blog can help many others preparing for their trip.
Related articles:
https://mainichi.jp/english/articles/20170415/p2a/00m/0na/002000c
http://asia.nikkei.com/Politics-Economy/Policy-Politics/Japan-to-make-trains-more-accessible-by-mobility-scooter