By Mark Bookman
Kabuki theatre is, among other things, an immersive encyclopedia of Japan. Audience members assume the role of pilgrims who are guided through the country's landmarks, literatures, teachings, and aesthetics by expert actors. In one afternoon, a loyal Kabuki patron can experience epic battles like those fought by the Genji and Heike, learn Buddhist ethics from austere monks and demons, and travel back in time to enjoy the Yoshiwara pleasure quarters. They can revel in Japan's rich cultural heritage, soaking up spectacular sights and splendid sounds like those made by traditional instruments including the Koto, Shamisen, and Shakuhachi. For these reasons and others, I'd argue that witnessing Kabuki allows fans to cultivate a deep appreciation of Japanese history and culture.
And yet, as is often the case with encyclopedias and compendia of knowledge, there are barriers to overcome before any individual can access the Kabuki stage. Some of those barriers are physical. Others are cultural and/or linguistic. In this article, I recount many of the barriers that I encountered as a white, American, power-wheelchair user trying to see a Kabuki performance on a Thursday afternoon in Tokyo's Ginza district. I explain how I navigated some of those barriers and made the most out of an afternoon at the Kabukiza theater, including dinner, drinks, and a fantastic show.
After deciding that I wanted to attend a Kabuki performance, the first barrier that I encountered was getting ahold of a ticket. While I am fluent in Japanese and was able to call the box office for support, I tried to secure a ticket like any other foreigner might (without using my language skills). Finding a service agent who could communicate in English was key. Enter Sumii-san of Wilgo, a Japanese company specializing in tickets and transportation for persons with disabilities. Sumii-san contacted the ticket office at the Kabukiza on my behalf and arranged for me to pick up my ticket there on the day of the performance. He also provided detailed instructions for me to follow so that I could make my way from the nearest train station (Higashi Ginza Station) to the venue.
As it turns out, the Higashi Ginza Station is directly connected to the Kabukiza theater, so I was able to find my way with little fuss. After following a short corridor opposite the turnstile, I arrived at a marketplace filled with traditional Japanese sweets and confectioneries. In addition to stalls selling rice crackers (senbei) and lunchboxes (bento), there were booths to buy ice cream, anmitsu, and various kinds of coffees and teas.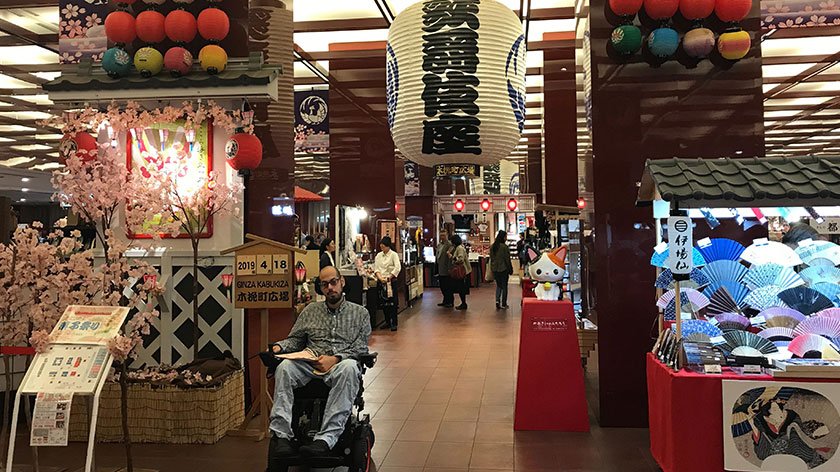 On the far side of the square was the Kabukiza ticket office, where a friendly English-speaking staff helped me print out my ticket. They also told me where I could pick up a translation and explanation device: a must-have for the show, as I'd soon discover.
I left the ticket office the same way I came in before taking an elevator up one floor to the theater proper. An usher guided me to a ramp on the left side of the main entryway, which I took to enter the grand rotunda. There, I picked up my translation and explanation device, which provided stage-directions and subtitles for the plays I'd watch.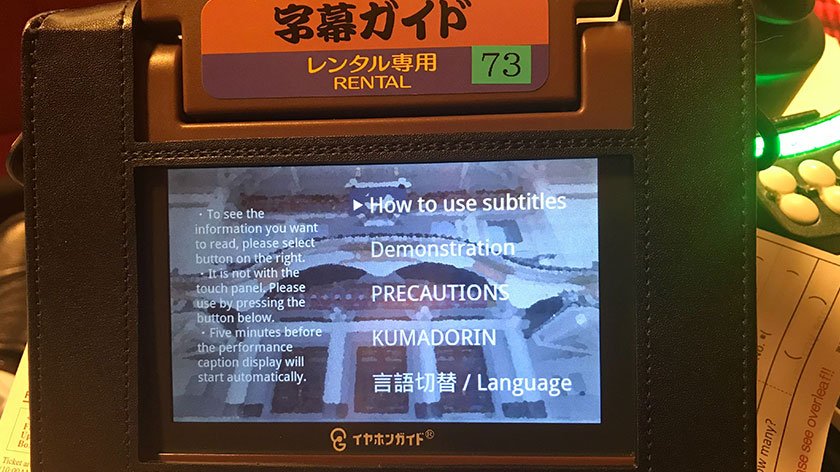 I began to roll toward my seat, which was in fact a large bay next to the Hanamichi: an extension of the Kabuki stage that juts out into the audience and allows for greater immersion. A few moments passed, the lights dimmed, and the show began.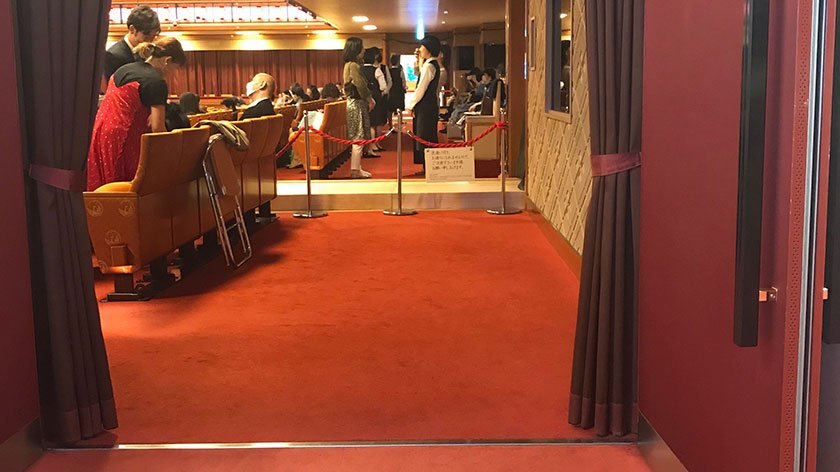 Over the course of four-and-a-half hours, I saw three plays at the Kabukiza theater: 1) The Tale of Sanemori (Sanemori Monogatari); 2) The Black Mound on Adachi Plain (Kurozuka); and 3) The Two Yugiri (Ninin Yugiri). Each play was buffered by a short intermission of around thirty minutes. While space prohibits me from addressing the contents of each play in significant detail here, I'll do my best to recount the first. Those interested in reading more about the plays can find additional information on my blog, "Building Access in Japan: Memoirs of a Wheelchair User."
The first play I saw, "The Tale of Sanemori," was a historical drama set in the twelfth century. It traced part of a longstanding feud between two rival warrior clans, the Genji and Heike, focusing on the character of Lady Aoi, widow of the Genji clan's leader. Lady Aoi was pregnant and hiding at the house of Kurosuke, a fisherman, when Sanemori, a samurai who was once of the Genji clan but had since defected to Heike, came to visit along with his partner, the ruthless warrior Seno'o. The two had been ordered to kill Lady Aoi's child if born male to prevent the rise of another Genji leader. To everyone's surprise, however, the child was not born male (or female) but rather as a severed human hand. Sanemori justifies the birth to his partner before diving into a long exposition about the history of the severed hand, its connection to his loyalty, and the future of the Genji line.
If there's one thing that struck me about the "Tale of Sanemori," it was its seemingly endless list of characters: keeping track of who did what, when, and why was a challenge throughout the performance. By the end, however, I felt that my confusion had lent itself quite well to the narrative. Indeed, I remembered all the highlights, as they stuck out amid the chaos and disorder. But that's not all. Somewhere along the way, I realized that the dizzying cast of characters also helped me understand the way that individuals of different castes and creeds may have lived their lives in the twelfth century (or at least as the playwright remembered them). Like words in a dictionary, those characters stuck out as hooks for me to hang my attention on and delve deeper if I was interested.
"The Tale of Sanemori" was around an hour long and having reached the intermission I knew that I needed to sneak out and use the bathroom while I could. Thankfully, there was an accessible bathroom on the opposite side of the theater which had plenty of space for my large Swedish-made power wheelchair. I took care of business and drove back to my seat, but not before grabbing a couple of snacks from the concession stand nearby. Nothing beats the flavor of red-bean paste and green tea!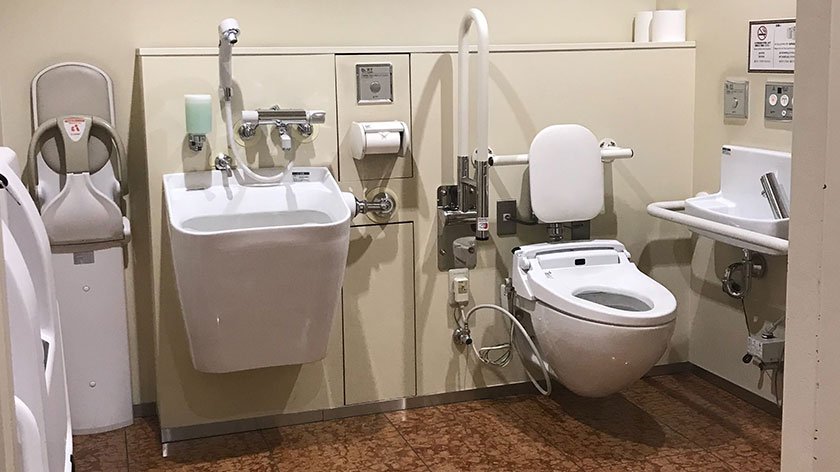 The remaining two plays that I saw, "The Black Mound on Adachi Plain (Kurozuka)" and "The Two Yugiri (Ninin Yugiri)," respectively focused on Buddhist ethics and aristocratic aesthetics. The former followed a group of monks on their quest to pacify a fearsome demon, while the latter examined the life and times of party-goers in Japan's pleasure quarters. The theater was rife with energy throughout the performances. Fans chanted words of encouragement to the actors, who worked to (re)create worlds of old for our enjoyment. It was truly a spectacle to behold, and one that I won't forget anytime soon.
After the final curtain call, I waited a few minutes for the crowds to subside before turning in my translation device and making my way back toward the train station. My night at the Kabuki theater was an ethereal experience: an otherworldly journey jam-packed with enough cultural artifices and trivia tidbits to keep me busy for years to come. While the academic in me rejoiced at all the new avenues available for my research, it was ultimately the pleasure-seeker in me who won the day. Kabuki was simply too much fun: the atmosphere, ambiance, and affect of the theater stole my heart. I can't wait to go back and immerse myself once more in its living encyclopedia of Japan.
What about you? Are you ready to dive into the world of Kabuki theater? Make sure that you tell us about your experiences so that we can ensure that everyone has access to the rich wellspring of knowledge that Kabuki has to offer!
---
Mark Bookman received his B.A. in Global Interdisciplinary Studies from Villanova University in 2014 prior to researching Buddhist Philosophy in Japan as a Fulbright Fellow. He earned his M.A. in East Asian Languages and Civilizations from the University of Pennsylvania in 2016, where he currently studies the history of disability in Japan as a PhD Candidate. At present, Mark is working with experts on disability and barrier-removal at the University of Tokyo's Research Center for Advanced Science and technology as a Japan Foundation Research Fellow.
Even though Mark keeps himself busy (VERY busy!) he has agreed to take on a role at Accessible Japan as a researcher and consultant.
You can read more about Mark on his website https://bookmanresearch.com/
---