Yuriko Oda (織田友理子) has GNE Myopathy/HIBM/DMRV and is the president of the 'Patients Association for Distal Myopathies' (PADM) and a member of the TREAT-NMD Executive Committee. She shares about disability and accessibility on her Youtube channel, Wheelchair Walker, including some with English subtitles. Yuriko works hard advocating for accessibility for people with disabilities.
Recently she released her first App – WheeLog! – a crowd-sourced accessible map for smartphones. We asked Yuriko about her new app.
---
Why is an app like WheeLog! Important?
For someone with a disability, a trip to an unknown place requires a great deal of research, careful planning and, most importantly, courage. In Japan alone, there are over 2 million wheelchair users. I thought it would be great to make an application that would allow people to help wheelchair users (as well as mothers with strollers). I felt the best idea was to create an interactive map that will allow wheelchair users to clearly see accessibility in public spaces as well as allow us to share our experiences and create a virtual guidepost where we can explore the outside world. This accessible map application created by everyone is "WheeLog!".
It is essential for wheelchair users to collect precise information before traveling, for example, from an airport or station to a hotel they have never been to. It is very difficult to open several web pages and search for accessibility information step by step. Even when individuals and organizations place useful information on the internet, there is a large chance that the information will not reach those who need it. So, by summarizing this information in WheeLog!, access to information can be greatly improved.
The WheeLog! application can be used by anyone, whether they have a disability or not, to help other users. If we could spread the word about this project and continue to provide this application for free, we believe we can make the project a global practice. The detailed information is useful and practical not only for wheelchair users, but also for mothers with babies in strollers, tourists carrying heavy luggage, and the elderly – in Japan and also in other countries.
Tell us more about how the app works
The data is based on Google Maps, and everyone around the world can post information on the map. You can add "Spots" by using existing Google Place information, or by posting from any place you want. Spots come in 10 categories: Bathroom, Elevator, Parking, Shop, Other, Station, Lodging, Ramp, Barrier and Favorite. Users can then evaluate facilities by using the available questionnaire in each location. Then you can post comments or bookmark favorite posts. Additionally, you can post "Chirps" freely on the timeline, or post Chirps on the map with location information and communicate with others easily. With WheeLog!, you can even request information about places you are interested in!
You can also add videos etc to places. Since videos and photos do not require language, they are easier to understand than words. They can give a visual impression of accessible places. This information can be of great value for not only people who cannot go outside on a daily basis because of their disability, but also for those who do not speak Japanese, e.g. foreign tourist with disabilities, etc.
This application also makes it possible for users to describe the type and size of their wheelchair, as well as the cause and degree of their disability in their profiles. Users can access more relevant information by selecting other users with similar disability levels as "favorites".
What feature do you feel is the most unique to WheeLog?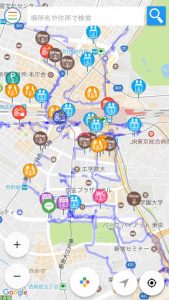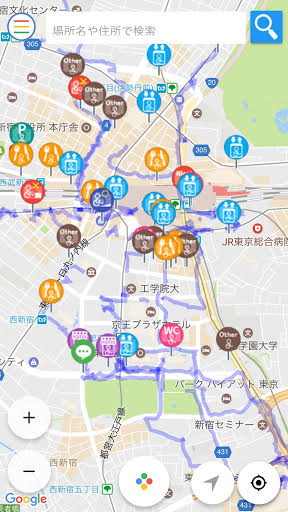 The most innovative function is the wheelchair "Tracklog." With Tracklog, the community can help each other just by moving around in a wheelchair and showing routes to accessible spots. By referring to the posted path information, it is possible to plan travel routes and judge whether an area is easy for a wheelchair user to travel to or not. You can record the places you visit and trace the route you took to reach those places by using the GPS function of the smart phone. The routes that many wheelchair users have taken are displayed in dark colors and you can guess which street is easy to follow. There are many tools for gathering accessibility information, but I believe it is very innovative to use the information to draw lines between accessible points and to provide information about accessible paths. In this era of globalization, I believe WheeLog! will be a tool that will greatly change the world of wheelchair users.
There haven't been many applications that gather the necessary information for focusing on movement. It is very helpful when people are choosing their route beforehand since it offers information about barriers to their destination. Even if we have accessibility information about the place we want to go to, it is useless unless we can solve the problem of how to get there. We believe this app is the only one of this type in Japan – and in the world, as far as we know.
How has the reception been?
It has been only three months since the release of WheeLog! on May 26th 2017, but over 1600 downloads and more than 4000 Spot postings have been made. Although most users are from Japan, people have posted even from Taiwan, Hong Kong, and the United States. We need to spread the word about the app and reach out to the community in order to acquire more and more information. The number of downloads has continued to increase over the past month, as well as the number of reviews. Users have also responded to posts for requested information, leading to two-way communication between users.
We want to collaborate with many people from many different countries who would like to create a better world. As the number of people using WheeLog! increases, society as a whole will become increasingly interested in the importance of removing physical barriers, as well as "barriers of the mind".  By spreading globally, WheeLog! can help wheelchair users gain the courage needed to break down the "barriers of the mind" and then it will become even more common to see wheelchair users out enjoying life!
Please help us spread the word!.
---
WheeLog! is available in both Japanese and English. The app can be used anywhere in the world, so we strongly urge you to download it and start sharing information!
You can download the app for free with the following links:
---