The International Home Care & Rehabilitation Exhibition (HCR) was held this past week at Tokyo Big Sight.  HCR is a huge event where companies from around the globe gather in Tokyo to show off their latest products for those with disabilities and the elderly. It is open to the public and, if you have the time during your vacation, is definitely worth visiting.
The exhibition is not held on set dates but lands somewhere between mid-September to mid-October each year.  It is held for 3 consecutive days at Tokyo Big Sight in Odaiba, Japan's biggest exhibition center, and features booths from numerous companies covering 51,380㎡.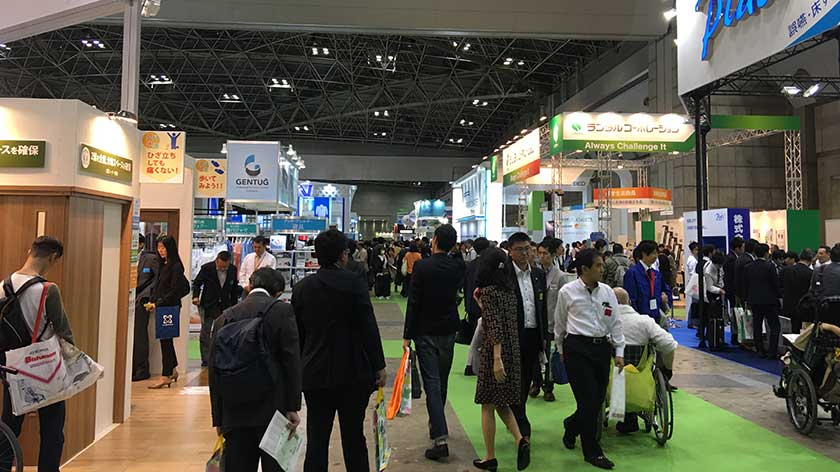 There are 550 exhibitors (500 from Japan, the rest from 28 other countries) featuring products related to disability and elder care, including: mobility equipment, bathing and toiletry related products, robots, orthopedic products, daily living aids, exercise and rehabilitation equipment, accessible vehicles, management software for nursing homes, and much more. Companies range in size from small local companies to giants like Honda and Toyota.  You can even purchase some products on the spot.
The venue is accessible, but with 2,000 of the 119,000 visitors visitors being wheelchair users, expect to wait for the train, elevators and toilets! The aisles get crowded with people and vendors handing out flyers but, if you can get past that, it can be an excellent way to find the latest mobility and daily living aids available in Japan!
Here is the English version of the International Home Care & Rehabilitation Exhibition in Tokyo website: http://www.hcrjapan.org/english/index.html