The Tokyo National Museum is not only Japan's largest museum, it is also incredibly wheelchair accessible. With over 110,000 items on display it is a great place to learn about the history of Japan.
Background Information
The Tokyo National Museum is the largest museum in Japan an one of the largest museums in the world. Though it originally started as just an exhibition at Yushima Seido in 1872, the museum moved to its current location in 1882 and has been open to the public since then.
The museum houses 110,000 objects, including 87 Japanese National Treasure holdings. The collection is spread out over several buildings including:
Honkan (Main Japanese Gallery)
Toyokan (Asian Gallery)
Hyokeikan (Only for special exhibits)
Heiseikan (Ancient treasures and large-scale exhibitions)
Horyu-ji Homotsukan (Gallery of Horyu-ji Temple Treasures)
Shiryokan (Research and Information Center)
The Tokyo National Museum is closed on Mondays (or the following day if Monday is a holiday), and for New Year holidays, but is open on other days from 9:30 to 17:00 (until 20:00 on most Fridays, until 18:00 on most weekends and holidays). The permanent exhibition costs 620 yen to enter. Though the website states: "Disabled persons with one helper or attendant may visit the museum free of charge. Please exhibit your physical disability certificate or booklet at the entrance."
Different hours and entrance fees apply for special exhibitions.
Getting There
The Tokyo National Museum is adjacent to Ueno Park and is most easily accessed from JR Ueno Station's (station map) "Park Exit" which is wheelchair accessible but does have a slightly steep ramp.
Keisei's Ueno Station (station map) is an alternative but not as convenient.  Further away is Uguisudani Station.
Accessibility
Since the Tokyo National Museum is run by the government, it very wheelchair accessible. As mentioned above, entrance is free of charge for those with disabilities (with verification by identification card).
For those with visual impairments, the Tokyo National Museum provides Written Instructions for Accessing the Tokyo National Museum from Ueno Station.
The entrance ramp to the Honkan is a bit steep, but other halls are very easy to enter.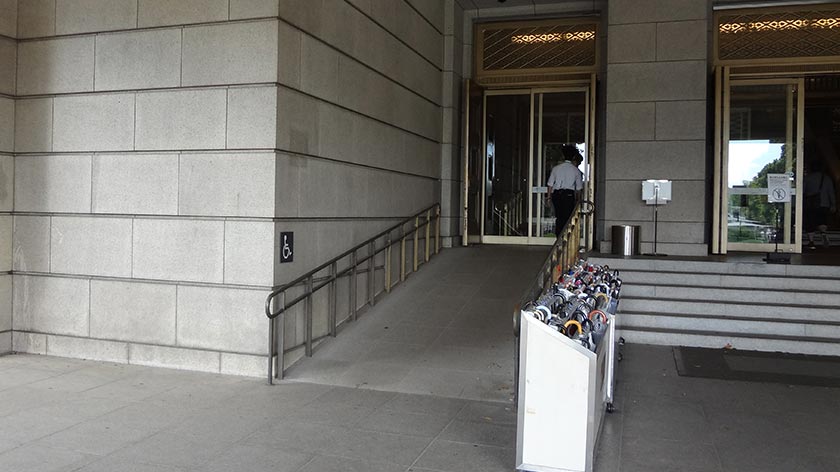 Due to the date of construction, the different rooms in the Honkan have door sills. While they are only 1-3cm in height, they can be an uncomfortable surprise to wheelchair users if not paying attention.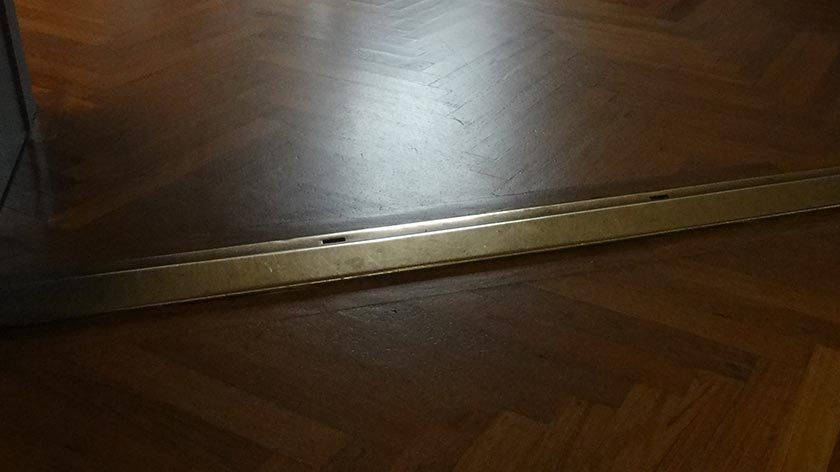 Service dogs are permitted throughout the museum, additionally there are ostomate facilities (located in the basement of the Honkan, first floor of the Heiseikan and Toyokan and Main Gate Plaza), medical aid stations, and AED devices at the entrance of each building. It should be noted that the toilets on the upper floors of the Honkan are rather small, so the toilets in the basement or in others halls are recommended.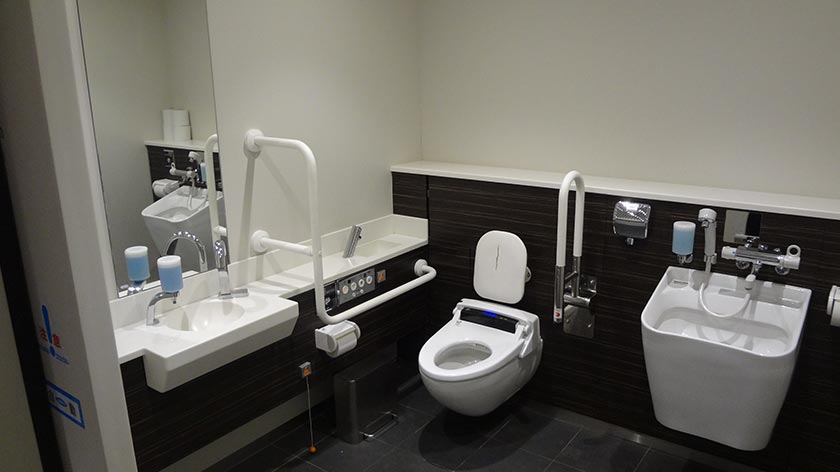 A unique tactile map conveys the typical characteristics, materials and production techniques of objects in each of the exhibition rooms for the visually impaired. (Located in room 19 of the Honkan.)
The exhibitions are very specious and there is plenty of room to navigate in a wheelchair.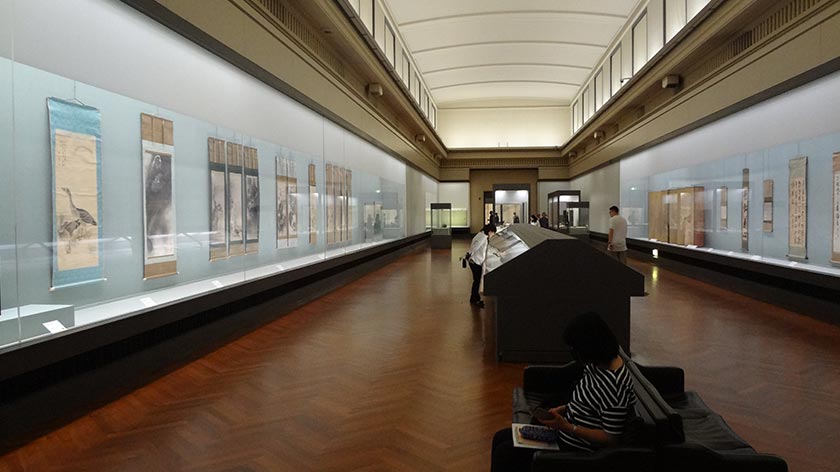 The Tokyo National Museum website has fantastic PDF maps available to look at before hand with all sorts of information on available facilities and accessible access points: Barrier-free accessibility in TNM and galleries.
Conclusion
If you are interested in the history of Japan (or other parts of Asia), the Tokyo National Museum is well worth your time. Unlike the Shinjuku Samurai Museum, the Tokyo National Museum offers incredible value with thousands of items on display at a very reasonable price (possibly free!). Since it is located next to Ueno Park, there are plenty of other sites to see nearby.