A few months back, Accessible Japan was contacted by Inside Japan Tours to discuss accessible travel in Japan. Since then we have worked together to support a few travelers coming to Japan.  This past week, Josh from Accessible Japan took a few of Inside Japan's tour guides on a tour to help them better understand Japan's great accessibility.
Inside Japan is based in the UK, but also has offices in the US and Australia to help meet their customers needs.  If you are interested in a tour to Japan, definitely get in touch with them!
---
Charlea Jefts
Inside Japan Tours, Tour Leader
When coming to Japan everyone gets excited about the promise of amazing transportation; not many of us consider having to bring our own set of wheels and the challenges of getting around and seeing the sites with those wheels. Personally, not a day goes by that I don't think about a special person in my life. Growing up, I was very close to my Uncle Steven Burkham, who, due to complications from type 1 diabetes, had specific accessibility needs. Because he had a love for life and such an adventurous spirit, I am always thinking about how much he would have loved seeing and being with me during my travels throughout Japan. In order to tackle the idea of being able to share Japan with others like him, a group of our Tour Leaders at Inside Japan met up with Josh Grisdale, one of Tokyo's kind and warm-hearted residents of nine years and a person with specific accessibility needs. We could not have had a better guide to open our eyes to the "barrier free" side of Tokyo.
Our day through Tokyo took us to various locations: Harajuku, Shibuya, Asakusa Temple (including backstreets), and Ueno. We started off at Harajuku's own Meiji Jingu Shrine. This shrine's main approach is a loose gravel path; Josh proved that with his "set of wheels" it was no problem to tackle. The shrine also offers accessible restrooms. Josh, on a scale of one to ten, rated them an eight and noted that Japan offers some of the best accessible restroom facilities in the world. Due to the large amount of space in the restrooms, a wheelchair can fully turn around with room to spare. The only trick is to not lock the next user out by closing the door from the inside! At Harajuku we also took the opportunity to check out Takashita Street, as all the super trendy shops and crepes were calling our name. Although each shop varies in its level of accessibility, Josh did mention that there have been plenty of times when he had "borrowed" slopes from a neighboring shop to get in and that overall, most shops were quite friendly and helpful!
We then jumped down to the subway's Fukutoshin line to head over to Shibuya. For those travelers with wheelchairs, it is important to stop and speak with station staff before heading down to the platform. They will verify travel plans and proceed to give red carpet treatment by escorting travelers to their train, even folding out a special, not-so-red, ramp to board the train. When exiting, the VIP treatment doesn't end. Station personnel will be waiting to escort you to the nearest exit or transfer platform.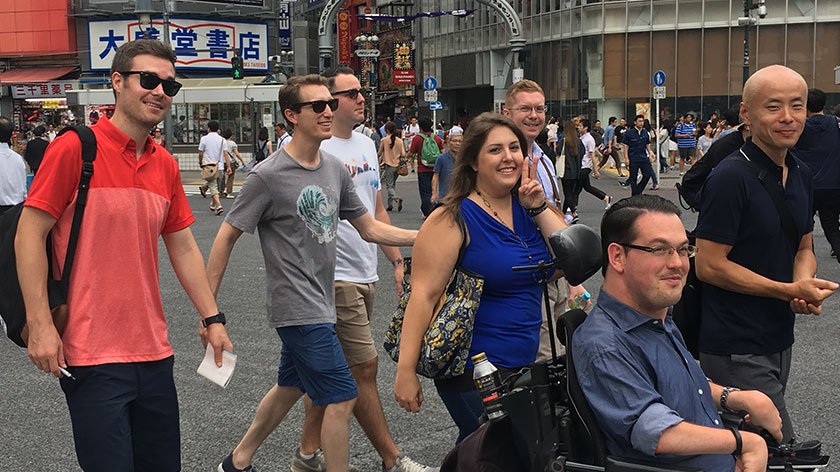 After taking our time crossing Shibuya's famous intersection ("the scramble") in good fashion, we set off on our greatest adventure of the day–finding access to the subway's Ginza line. After testing out what seemed like every elevator in the station and finding access to the platform heading in the opposite direction, we finally made it to ours. While waiting for our final elevator to the platform headed to Asakusa, Josh shared that he always plans an extra 15 minutes per transfer. This means that planning for a longer than normal travel time is important; preparation is key.
Asakusa Temple is a great place for accessible site-seeing; it includes not just a ramp but an elevator up to the temple, making it a great place to view dragon paintings on the temple's ceilings. Aside from the temple, the back streets offer wide pedestrian roads and traditional shops for souvenir shopping. Great outdoor Izakayas are also very accessible for an afternoon lunch or dinner with the locals. After a cruise through Ueno Park to see the lily ponds, it had been a very full day; it, sadly, was time to say goodbye. A special thanks to Josh for his support in answering all of our questions and for taking time to better enrich our understanding of Accessible Tokyo!
When considering your accessible friendly trip to Japan, there are a few important questions to ask yourself. Are you up for an unforgettable adventure? Ready to make memories that will last a lifetime? Do you have your wheels prepared for an adventure? There is no better time than now to take advantage of growing "barrier-free" access. Our Inside Japan team and Tour Leaders are waiting with anticipation to make plans and show you around! Ready, Steady, Japan!