Review by Sally Keys
Dogs are much more than pets to many people. They become like children, real family members. Studies show that a maternal-type instinct takes over when we are around dogs, making us immediately gravitate toward them, love them, and bond with them.
For those with disabilities, dogs can be even more important. They're faithful companions, friends, and rescuers. 'Quill: The Life of a Guide Dog' shows just how much an animal can change the course of one's life as Quill shows others the true meaning of hard work, companionship, and trust.
The Story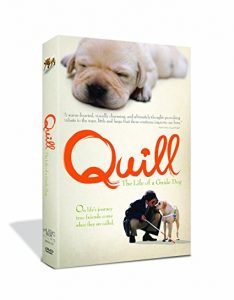 'Quill: The Life of a Guide Dog' focuses on the lifespan of a Labrador Retriever named Quill. The pup was one of five in his litter but was the only one chosen to become a guide dog for people with disabilities. Quill spent the first year of his life with puppy trainers Isamu and Mitsuko Nii, who taught him the basics of obedience.
Quill then goes through more intense guide dog training with trainer Satoru Tawada, who finds that Quill struggles to pick up on his training as fast as other dogs. But, he also notices that Quill has incredible patience and empathy toward others, some less obvious but no less important qualities of a successful guide dog.
Tawada thinks Quill is the perfect match for a blind journalist named Mitsuru Watanabe, who isn't entirely sold on the idea of a guide dog, but accepts Quill anyway. The story follows the pair as they learn from, and rely on, each other for trust and companionship.
Thoughts
If you have a disability or know someone with one, you're going to want to watch this movie. It's sentimental, careful, and precise in the way that it depicts those with disabilities. Most of all, it's realistic in its portrayal of the disabled and their anxieties. Watanabe is a character many of us can relate to; he knows he needs help, but he's not sure from who, or where, he should trust it.
Enter Quill, who came into Watanabe's life at a time when he needed it most, as did Quill, but neither knew it yet. Watanabe was at a point in his life where he felt he needed to be independent, yet struggled to do so with his disability. Quill was an incredible guide dog in his own right but fell behind the stars of his class. All he needed was the right person to show him his worth.
The perfect match between Watanabe and Quill changed both of their lives in more ways than either one knew. The film showed the pair's love and trust for each other in such an honest, real manner that you can't ignore it. Spend some time watching this with your loved ones. You'll fall in love with Quill as he navigates his life in the most realistic movie depiction of a dog you'll likely ever see.
And, you'll probably even fall in love with the cranky Mr. Watanabe as he learns the importance of real companionship and how to trust in ways he never thought possible.
You can get 'Quill: The Life of a Guide Dog' from iTunes (buy) or Amazon (rent
or buy
).