This site and blog mainly focuses on travel and lodging but we also want to share interesting disability-related and cultural stories as well.  So, meet Hisashi Fukushima, a prize-winning 46-year-old disabled man from Hidaka, Japan.
Hisashi started drawing trains from the age of three.  Due to his developmental disability, he would commute to Kawagoe to a consultation center for children.  During these trips he became fascinated with the trains and railways that he saw and began to draw them.  According to his father, when the family would travel north, Hisashi would get extremely excited about the opportunity to see rural trains and stations.  Over 40 years later, he still loves trains.
Now that you have seen some of his amazing work, here is the amazing part: he draws everything from memory.  He never sketches on-location or use a picture.  He starts by putting indelible black ink to paper.  His incredible memory and steady hands help him capture realistic detail.
Not only do his steady hands allow him to draw rails and telephone poles without a ruler, they have also been hard at work building miniature train models.  He makes the train's blueprints from the measurements and proportions in his memory and makes each and every detail from poster board.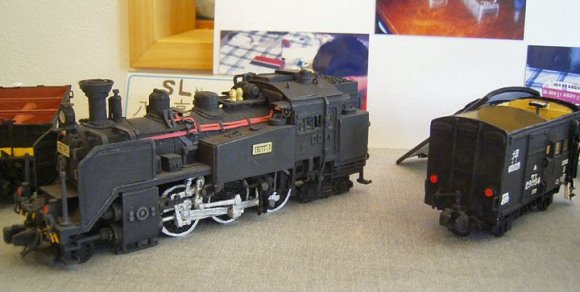 His skills have been recognized in the art community and participated in the Chuo Fine Arts Association's 65th Exhibition a few years ago at the Tokyo Metropolitan Art Museum.