By Justin Schroth
The Tokyo 2020 Paralympic Games are still a year away, yet Athletes are gearing up to show what they are made of. As of 23rd of August 2019 (and continuing until 12th of September 2019), The Tokyo Paralympics Organizing Committee has begun a new campaign designed to highlight highly skilled athletes who have participated in past and current Paralympic Games. The campaign will have several of these Paralympic athletes photographed while sharing their stories, achievements, and surrounded by world recognized Tokyo landmarks.
To start this campaign, The Tokyo Paralympics Organizing Committee chose Markus Rehm, a German Paralympic Athlete who uses a carbon-fiber blade-type leg prosthetic in place of his amputated right leg. In the London 2012 Paralympic Games he won a Gold medal in the Men's Long Jump, followed by two additional Gold medals at the Rio 2016 Paralympic Games in Men's 4x100m Relay and again in Men's Long Jump. His skilled use of his blade-type leg prosthetic and Gold Metal winnings coined him the nickname "The Blade Jumper." Mr. Rehm has also won many Gold medals at several International Paralympic Committee (IPC) Athletics World & European Championships between 2011 and 2016 (setting world records), making him quite the skilled Athlete.
For this campaign Mr. Rehm was photographed at the iconic red and white Tokyo Tower, near the heart of the Tokyo area. Where he expressed is delight in being the first chosen for the campaign, as well as his excitement for the opportunity and the Paralympic Games itself. While in Tokyo, he will also be attempting to break his record exactly one year prior to the opening of the Tokyo 2020 Paralympic Games (25 August 2019). This record event and the photo released by The Tokyo Paralympics Organizing Committee are very inspirational, and it's their hope that it will equally inspire others to be a part of the Paralympic Games.
We at Accessible Japan are looking forward to Mr. Rehm's attempt at his record-breaking event as well as the continuation of The Tokyo Paralympics Organizing Committee campaign. If you find yourself inspired and want more information about tickets to the Paralympic Games, check out this link to the Tokyo 2020 Official Website.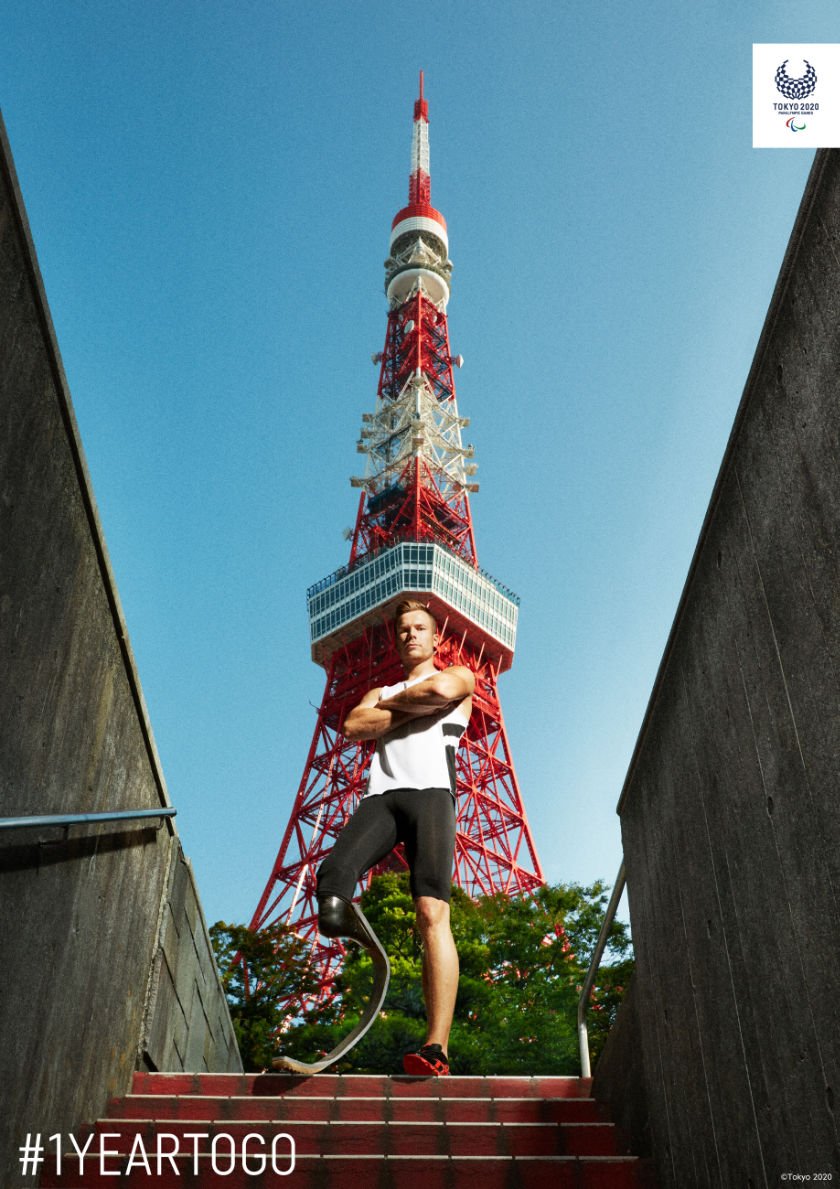 References
"Tokyo 2020 Paralympic Games Ticket Lottery." Tokyo 2020 Official Website, https://tokyo2020.org/en/news/notice/20190822-01.html