Finding Wheelchair Accessible Restaurants in Japan
---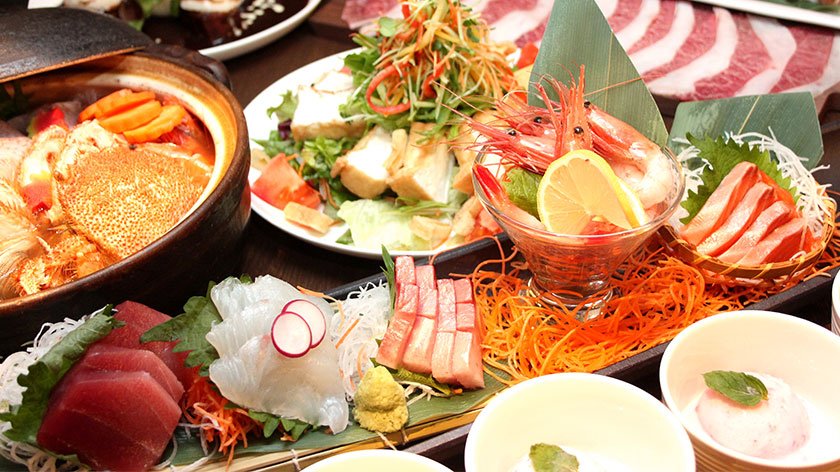 Experiencing authentic traditional Japanese cuisine is something everyone will want to do when visiting Japan. Every cramped street and every department store is filled with choices and specialties that will make any mouth water. Whether it is high-class Michelin-starred restaurants – which Japan has plenty of – or something more pedestrian with over-worked business people at a Japanese pub Japan after a long day's work – Japan has something for every tastebud and every budget.
However, starving travelers with disabilities still face many barriers when trying to find accessible restaurants.
(Be sure to also read our post on surviving without chopsticks!)
Finding a place to eat
Finding accessible restaurants in Japan can be very difficult. The small buildings, cramped interiors, and use of steps like the genkan can make many restaurants completely inaccessible. This unfortunately seems to be the case for traditional Japanese restaurants more so than Western imports.
While it is possible to wander around until you find something, we suggest you use GURUNAVI ("Gourmet Navigation"). It is a Japanese website similar to Yelp! and lists thousands of restaurants in both Japanese and English.
The key to using it to find accessible restaurants is unfortunately slightly hidden.
After you have made a search like "shinjuku sushi", scroll down until you see "Search Features" on the left-hand side.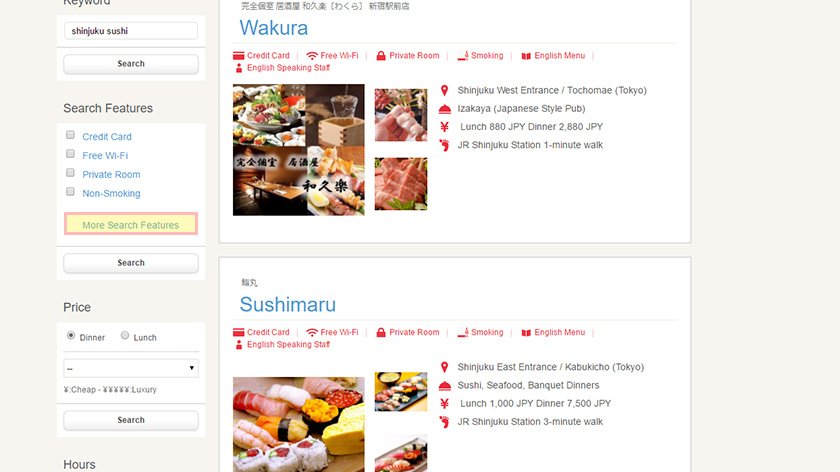 Clicking "More Search Features" will bring up window where you can select "Wheelchair Accessible" and/or "Wheelchair Toilet". Clicking "Set" will narrow down the search to restaurants that are wheelchair accessible.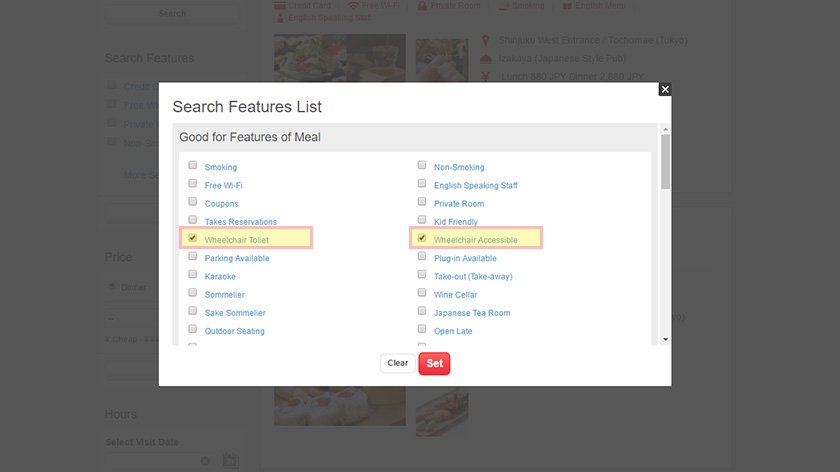 Keep in mind that setting accessibility on the website is largely up to the restaurant and therefore may not be 100% able to meet your needs.