Experiencing authentic traditional Japanese cuisine is something everyone will want to do when visiting Japan. Every cramped street and every department store is filled with choices and specialties that will make any mouth water. Whether it is high-class Michelin-starred restaurants – which Japan has plenty of – or something more pedestrian with over-worked business people at a Japanese pub Japan after a long day's work – Japan has something for every tastebud and every budget.
However, starving travelers with disabilities still face many barriers when trying to find accessible restaurants.
(Be sure to also read our post on surviving without chopsticks!)
Finding a place to eat
Finding accessible restaurants in Japan can be very difficult. The small buildings, cramped interiors, and use of steps like the genkan can make many restaurants completely inaccessible. This unfortunately seems to be the case for traditional Japanese restaurants more so than Western imports.
While it is possible to wander around until you find something, we suggest you use one of the following websites.
Bmaps
Knowing accessibility information beforehand is reassuring and encouraging. With the voices of persons with disabilities as driving force, Mirairo Inc. developed an app called "Bmaps" for collecting and sharing the accessibility information of places of interest, such as restaurants, shops and public facilities.
Persons with various types of disabilities were involved in the development of Bmaps. Based on their ideas, the accessibility information to be featured on Bmaps was narrowed down to the following 19 items.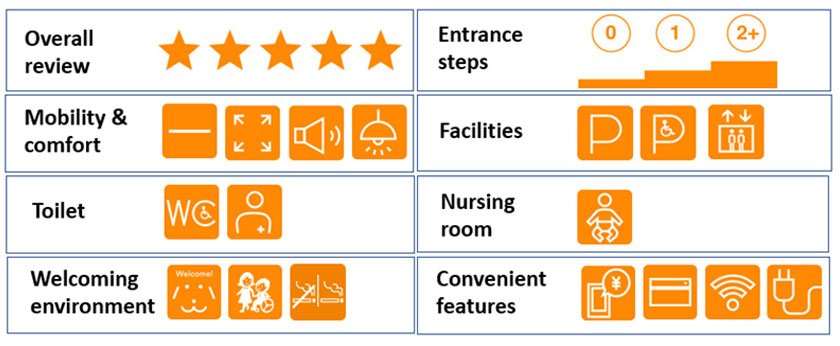 In addition to the information on physical accessibility such as the number of steps at the entrance and the availability of a wheelchair-accessible toilet, the spot information includes other features useful for a wider group. For example, whether the place is quiet or not. Some people who are sensitive to noise or persons with visual impairments who prefer a quiet environment may find this information useful. Persons with hearing impairments may prefer an environment where they can see sign language better, so they may want to know whether it is well lit or not, which can be an important factor for older persons or persons with low vision. Information on payment options are useful for anyone, including foreign tourists as well as persons with visual impairments who may prefer making payment by card.
Using Bmaps is easy! Anyone can download it for free (https://bmaps.world/en) on PC, iOS or Android. It's available in Japanese, English and Spanish. Users can click on the map to review a spot and select accessibility features. They can also upload photos and leave comments, which are extremely useful for others.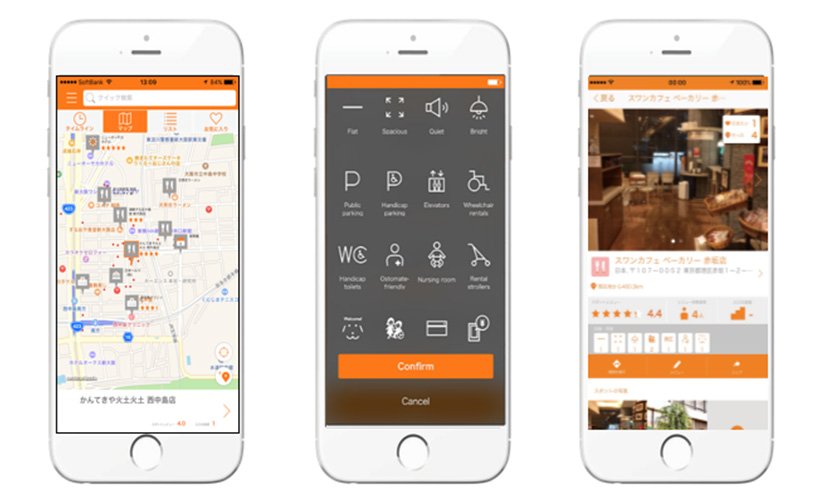 The search function of Bmaps helps users find if there are places near them that meet their accessibility requirements.
[button link="https://bmaps.world/en" newtab="on"]Visit Bmaps[/button]
GURUNAVI
GURUNAVI ("Gourmet Navigation"). It is a Japanese website similar to Yelp! and lists thousands of restaurants in both Japanese and English.
The key to using it to find accessible restaurants is unfortunately slightly hidden.
After you have made a search like "shinjuku sushi", it will show you recommendations.  Since you cannot filter these, click on "All" at the top.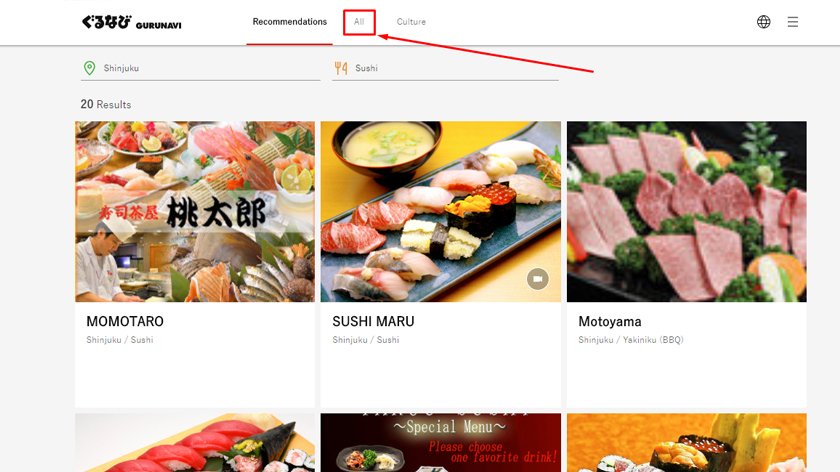 Unfortunately, this resets your search, so you will need to chose an area and food type again.
After searching again, click the filters button at the top-right of your search results.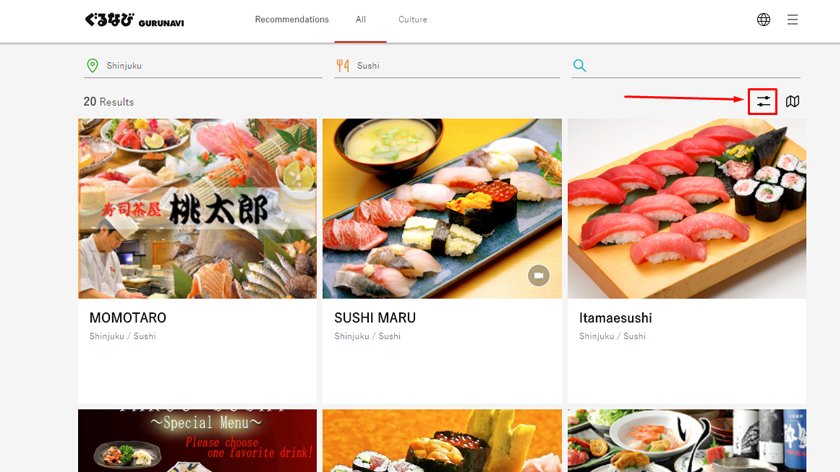 Select "Wheelchair Accessible" (and any other filters you want) and then click "Set".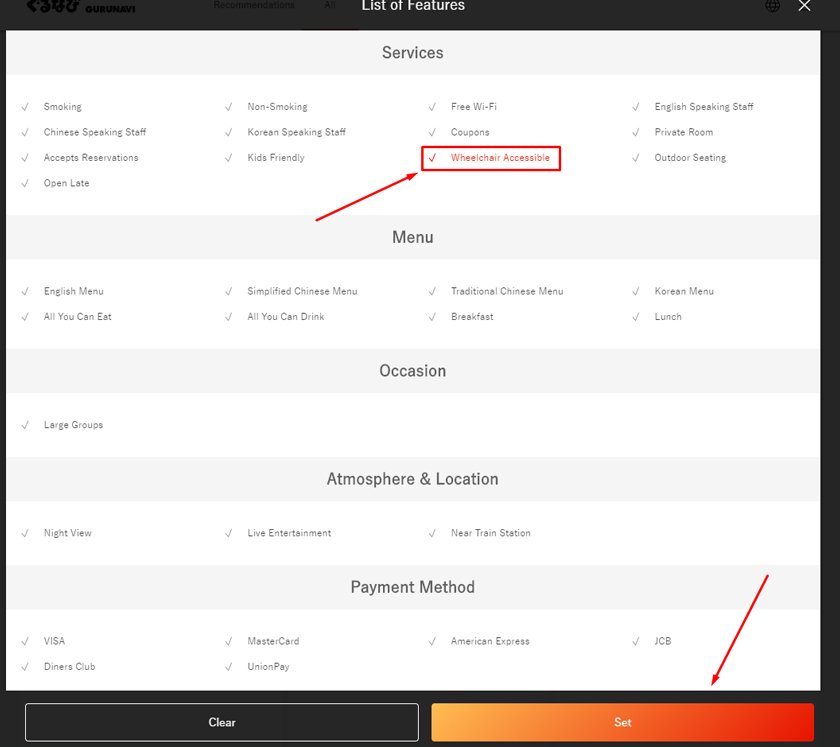 After setting your filters, you can see the results that meet your requirements.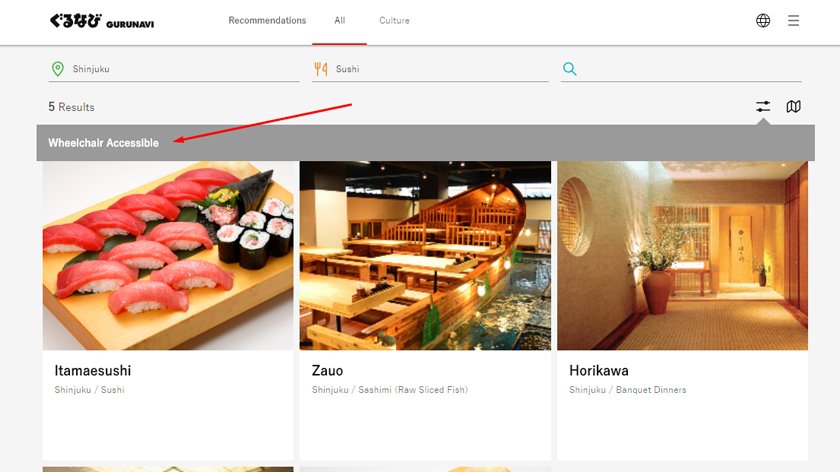 Keep in mind that Gurunavi likely does not check all the restaurants for accessibility in the same way a person with a disability might, so in some cases there may be a discrepancy between what the restaurant owner believes is accessible and your requirements for accessibility.
[button link="https://gurunavi.com/" newtab="on"]Visit GURUNAVI[/button]