By Mark Bookman
---
This is part 1 of a 5 part series. You can read part 2 here, part 3 here, part 4 here and part 5 here.
---
The Barrier-Free Section of Tokyo Disneyland's website is truly a sight to behold. Not only does it offer detailed information about park accommodations for persons with visual, hearing, and mobility impairments, it also speaks to other aspects of accessibility that entertainment centers often overlook including dietary restrictions, sensory environments, and the use of service animals. The "Kingdom of Dreams and Magic" presents itself as a wonderland for persons with disabilities, where barriers from the outside world are overcome with assistance from a friendly support staff.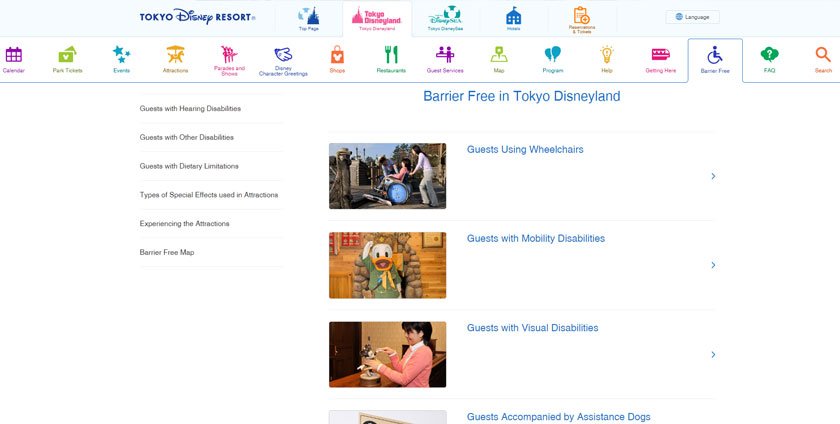 As I recently found out, however, the park's carefully curated image of a cartoonland without boundaries does not always translate into reality for its (dis)abled guests. In this five-article series, I use my experiences as an American wheelchair user to reflect on the ways in which Disneyland's haphazard implementation of restrictive access policies can steal away the pleasure of its patrons. I also draw on my training as a scholar of Disability Studies to provide practical solutions for improving the park's accessibility, including the development of new channels of communication.
My experience at Tokyo Disneyland can be divided into three distinct stages: 1) planning the trip; 2) entering the park; and 3) enjoying the attractions. In the articles that follow, I describe how the expectations that I developed during the first two stages of my experience failed to align with the realities of the third. Focusing on problems related to diversity, transparency, and inclusion, I illustrate what I believe to be the park's most fatal flaws regarding the accommodation of persons with disabilities: namely, the staff's differential understanding of park-wide regulations and poorly-constructed user feedback system. By pointing out Tokyo Disneyland's flaws, I hope to facilitate a larger conversation about how those flaws might be overcome and encourage my readers to think about problems tied to the construction of accessibility in other times and spaces. Indeed, I conclude each article with a list of takeaways and travel tips for persons with disabilities.
---
Mark Bookman received his B.A. in Global Interdisciplinary Studies from Villanova University in 2014 prior to researching Buddhist Philosophy in Japan as a Fulbright Fellow. He earned his M.A. in East Asian Languages and Civilizations from the University of Pennsylvania in 2016, where he currently studies the history of disability in Japan as a PhD Candidate. At present, Mark is working with experts on disability and barrier-removal at the University of Tokyo's Research Center for Advanced Science and technology as a Japan Foundation Research Fellow.
Even though Mark keeps himself busy (VERY busy!) he has agreed to take on a role at Accessible Japan as a researcher and consultant.
You can read more about Mark on his website https://bookmanresearch.com/
---