By Justin Schroth
A few years ago, an idea was conceived by the International Paralympic Committee to cultivate an increase in awareness, advocacy, and an overall social inclusiveness of Paralympic values in Education. In collaboration with partners such as Agitos Foundation, the Nippon Foundation Paralympic Support Centre, and Global Sport Development Foundation, a toolkit for educators was born. The name chosen for this toolkit is I'mPOSSIBLE, the creation of this name has an intriguing history, which the International Paralympic Committee (IPC) explains,
The name 'I'mPOSSIBLE' is inspired by an iconic moment from the Sochi 2014 Paralympic Winter Games. During the Closing Ceremony, the word 'Impossible' appeared floating from the roof the stadium. Paralympic Rowing champion Alexey Chuvasev climbed a 15-meter long rope to reach the top of the lettering and dropped an apostrophe between the letters 'I' and 'm', changing it to 'I'mPOSSIBLE' and showing the world that people can achieve anything they want.
Just like the story that created its name, the I'mPOSSIBLE toolkit is meant to be inspirational to all 6-18-year-old students around the world. Bringing them together in lessons, activities, videos, and more to increase understanding of those living with disabilities.
Japan was the first country to pilot I'mPOSSIBLE, with funding from the Nippon Foundation Paralympic Support Centre and support from the Japanese Paralympic Committee.  Since the toolkits' global implementation in 2017, many schools have applied its use in more than 25 countries across the world, and several Educators and Paralympians will be recognized for efforts in expanding IPC's goals of inclusion. As announced on the 21st of August 2019, IPC and its associates will officially provide awards and recognition to not only two Paralympians, but also to three schools (two from Japan and one overseas) that fully implement the I'mPOSSIBLE toolkit. This first-time prestigious global award observance will occur as part of the Closing Ceremony of the Tokyo 2020 Paralympic Games (6th of September 2020).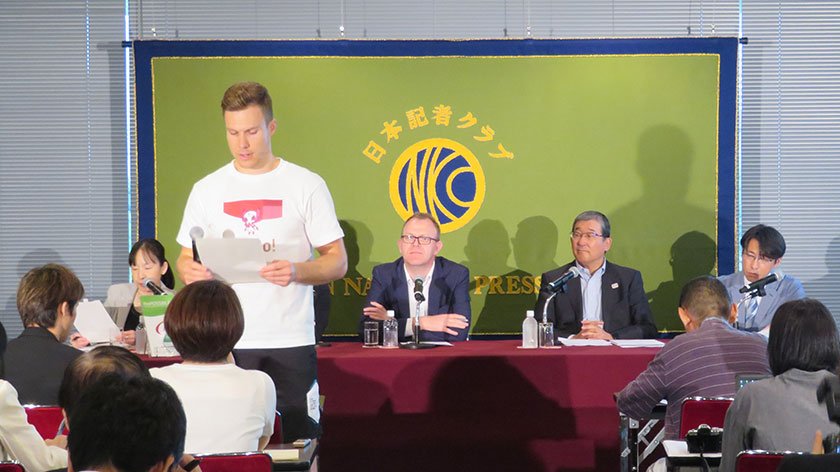 Paralympic athlete Markus Rehm sharing his thoughts on the i'mPOSSIBLE teaching materials at the August 21st press conference
Schools in Japan wishing to participate in the program and be eligible for the award from I'mPOSSIBLE can apply with the I'mPOSSIBLE Award Japan office. Overseas applicants will be able to apply later this year when Agitos Foundation and IPC makes further announcements.
For more information, including samples of the I'mPOSSIBLE program, please visit the International Paralympic Committee official website here: https://im-possible.paralympic.org/
References
"I'mPOSSIBLE." International Paralympic Committee, https://im-possible.paralympic.org/.