By Sarah Nishina
Kochi is located on the island of Shikoku and is the prefectural capital. Kochi is blessed with beautiful nature, sparkling oceans, clear rivers and deep green forests which cover around 85% of the land. It is home to many of the temples on the world famous Shikoku 88 temple pilgrimage.
Day One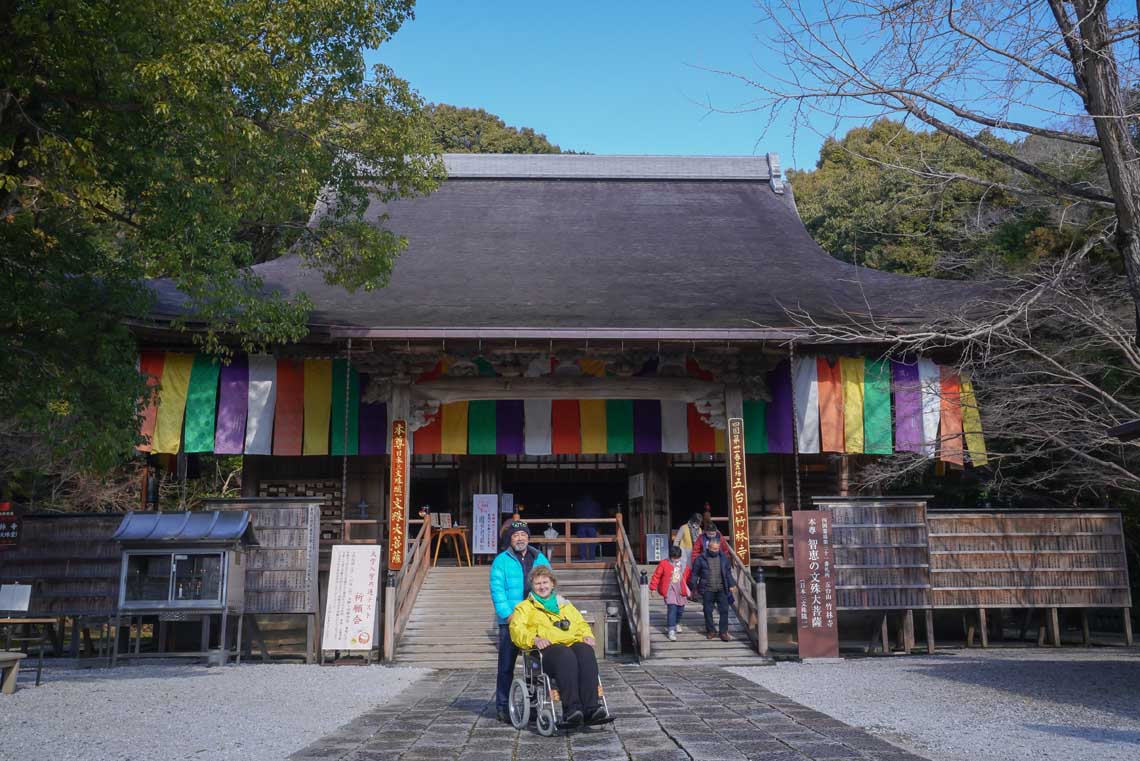 First stop on the tour is the Chikurinji Temple, the thirty first temple on the pilgrimage. On entering the grounds I take time to reflect on the New Year and feel immediate peace. The sunshine bounces through the trees and the amazing moss covered stones soothe my soul.
Access to the temple is easily accessible on the paved path from the car drop off point. At the top of the temple grounds there is a pebbled area which may be difficult for some wheelchairs. The temple provides a manual 4WD chair for use on the temple grounds. Access to the base of the pagoda is only by steps but I have a clear view and can take a photo from the base of the temple grounds. The 4WD chair allows me to explore the little paths scattered throughout the bamboo forest. Don't miss this!
A barrier free toilet is available on the temple grounds.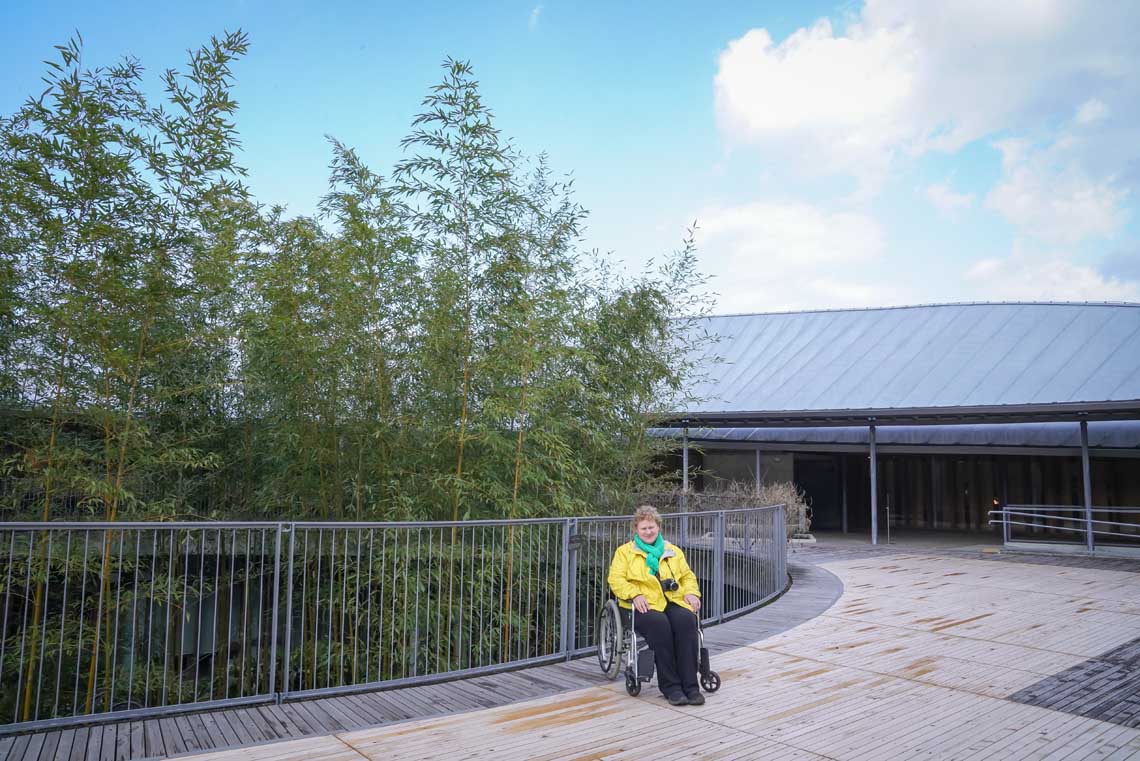 Feeling calm and refreshed the next stop is a visit to the nearby Makino Botanical Garden. It honors the remarkable achievements of local botanist, Tomitaro Makino. There are over 3000 species of plants on display over six hectares of garden. This garden is extremely easy to get around by wheelchair; plenty of space with well paved pathways. I am impressed there are six barrier free toilets located throughout the garden.
The on-site coffee shop is easily accessible and the perfect place to enjoy a break for lunch. There is plenty of space to move around and sit my wheelchair and legs comfortably under the table.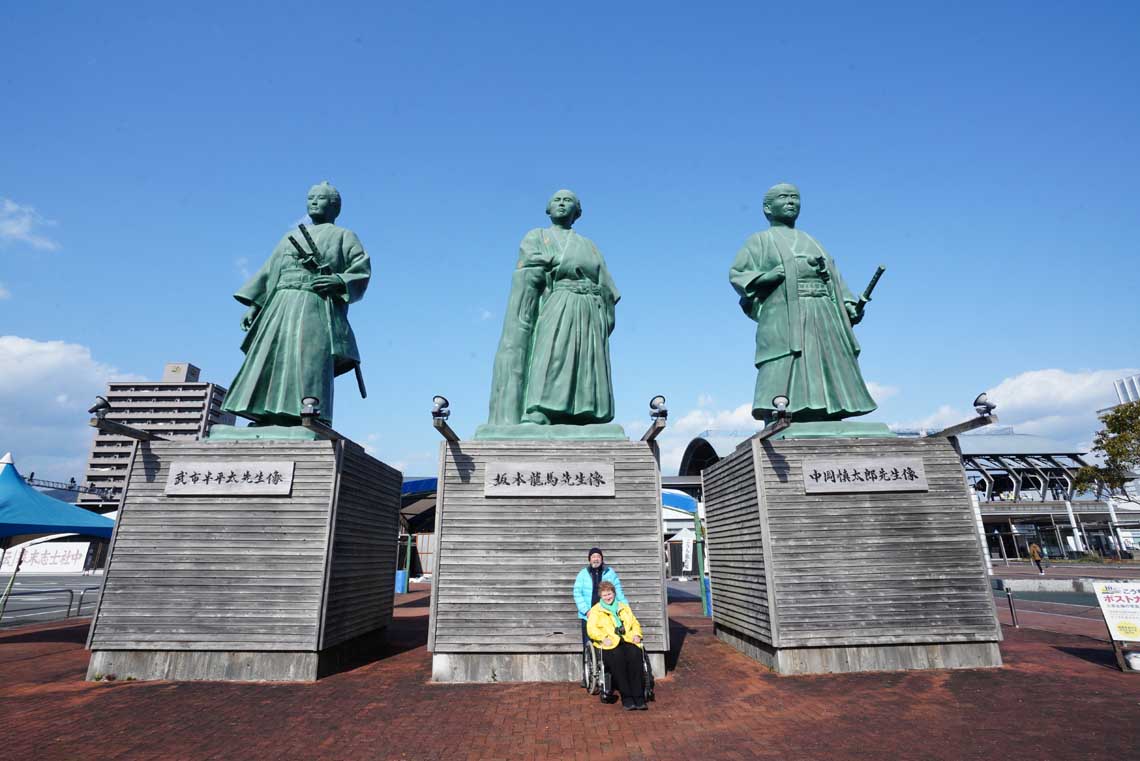 Moving from the mountains, temples and gardens, I move downtown to Kochi Journey Square by the station. I am greeted by three impressive grand statues of Ryoma Sakamoto, Hanpeita Takechi, Shintaro Nakaoka, esteemed samurai instrumental in bringing about Japan's modernization. A great photo spot and souvenir shop/tourist information centre close by, both wheelchair accessible. A barrier free toilet is available.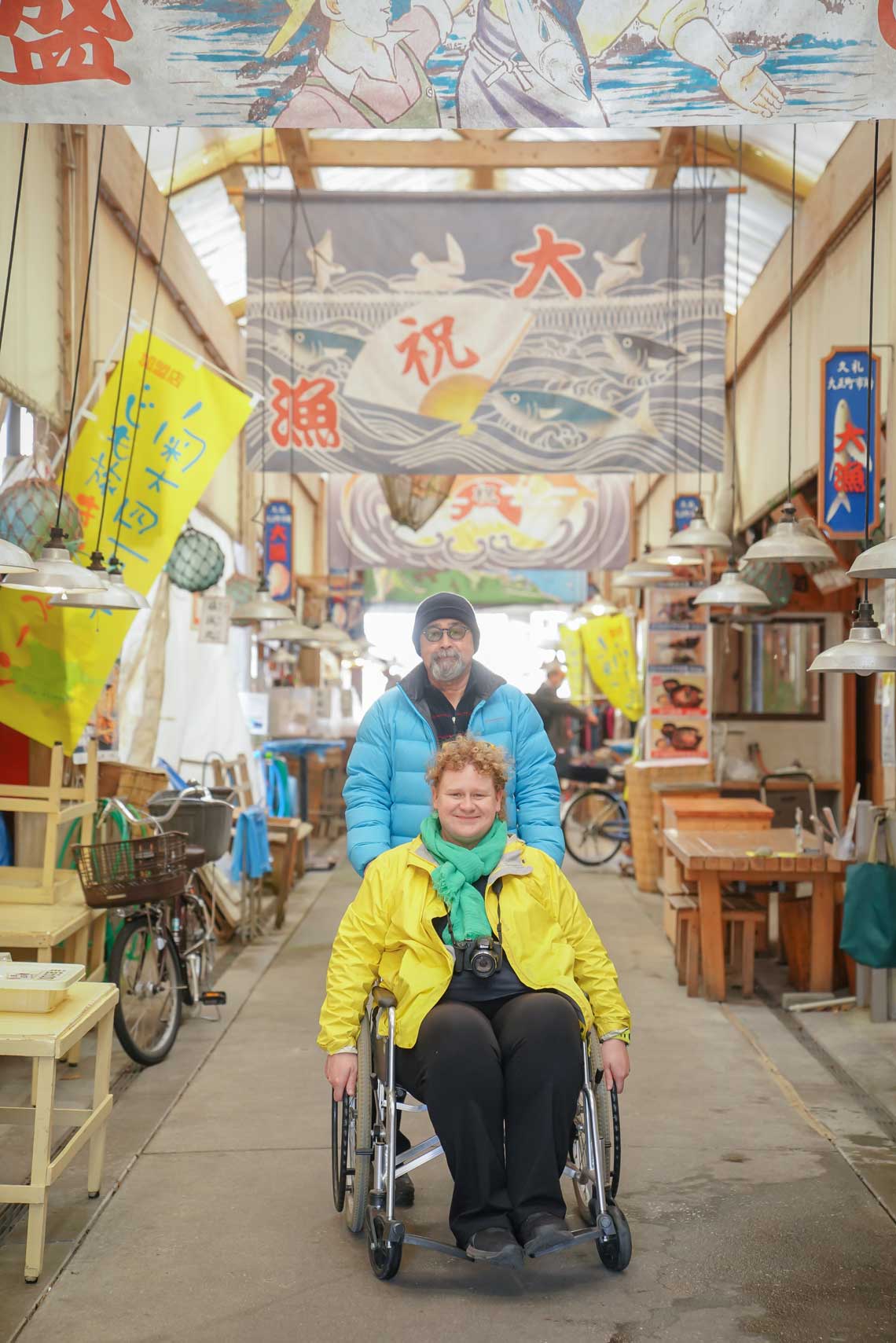 Time for a drive down the coast to a quaint little fishing town called Kure. I enjoy a visit to the local Taishomachi Market and feel like I am in the 1950's. Strolling the streets, I take in the nostalgic signs and ambience of the locals doing their shopping at small open front stores. The market is over 100 years old and sells fresh seafood, fruit and vegetables. I spot an old folk house and find it is 140 years old and has been renovated into a cafe. Just the right time for a caffeine fix!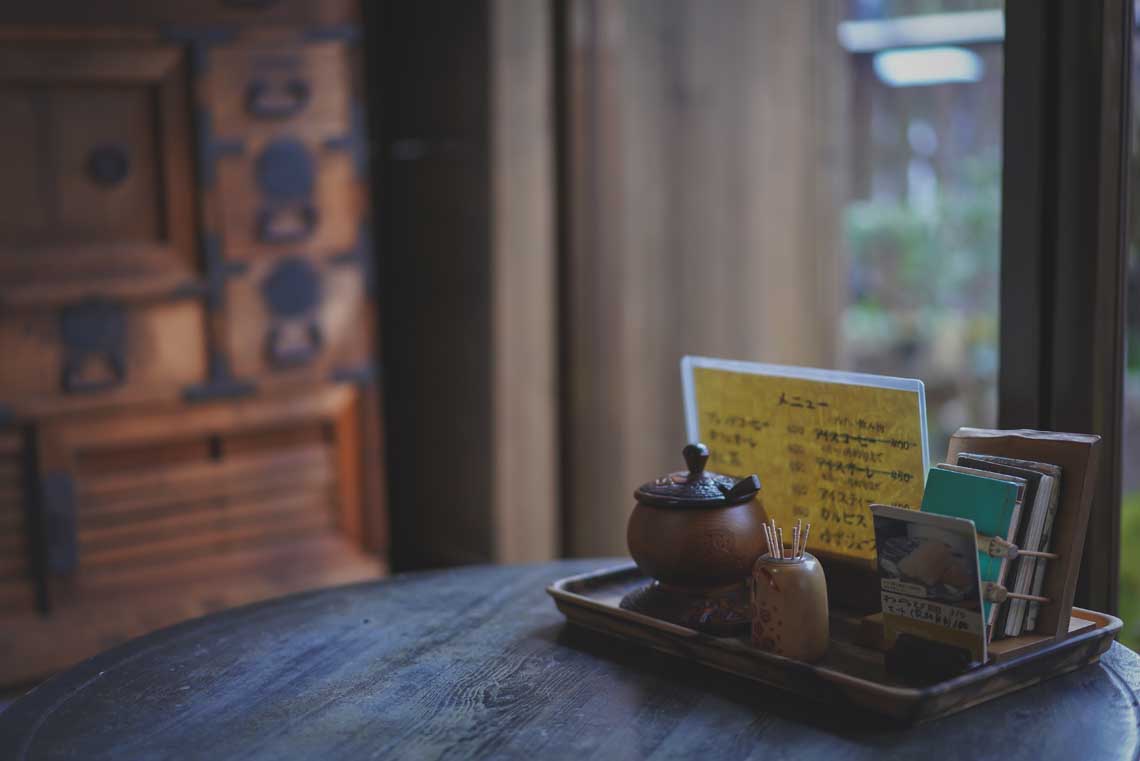 Sabo Kokuya is just like a traditional Japanese home in the countryside, filled with nostalgic objects and charm. Despite the entrance being a bit of a squeeze with my wheelchair, I am able to manoeuvre into the table area. I enjoy a freshly brewed cup of coffee and piece of cake with a view of the little garden. There is no barrier free toilet here.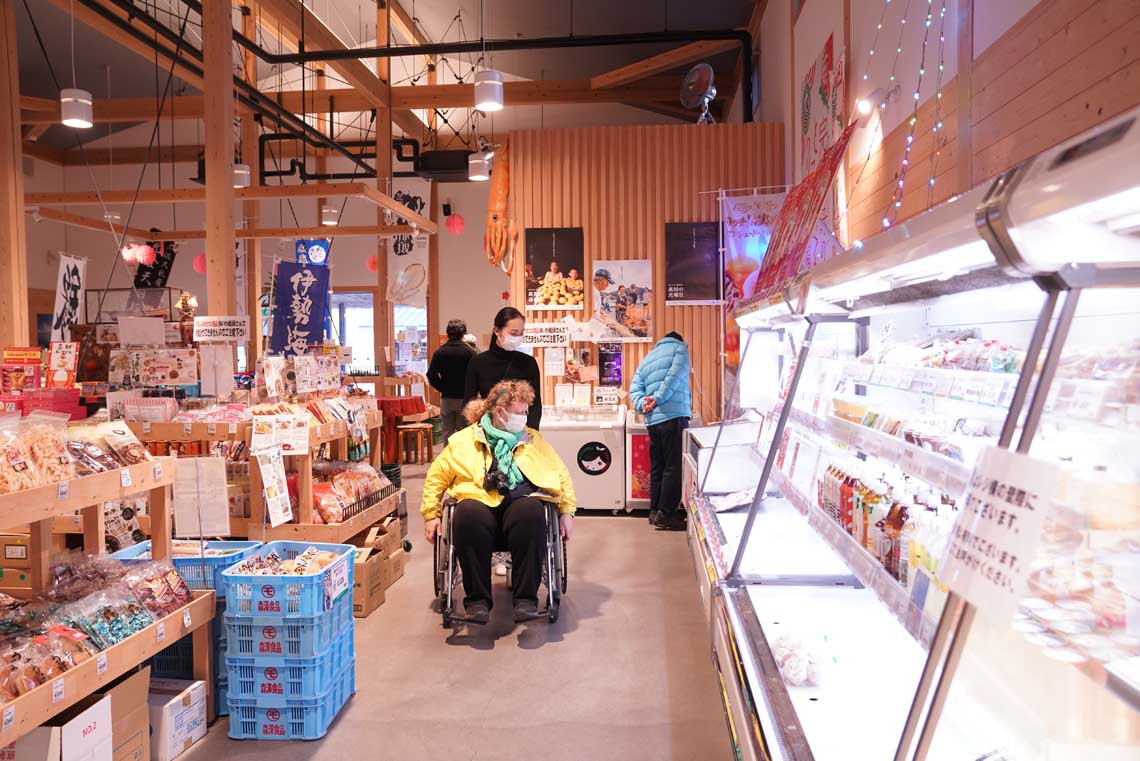 After coffee I make a toilet stop at the Nakatosa Roadside Station, just 3 minutes by car. There is a disabled car park, spacious barrier free toilet and a few shops selling food items.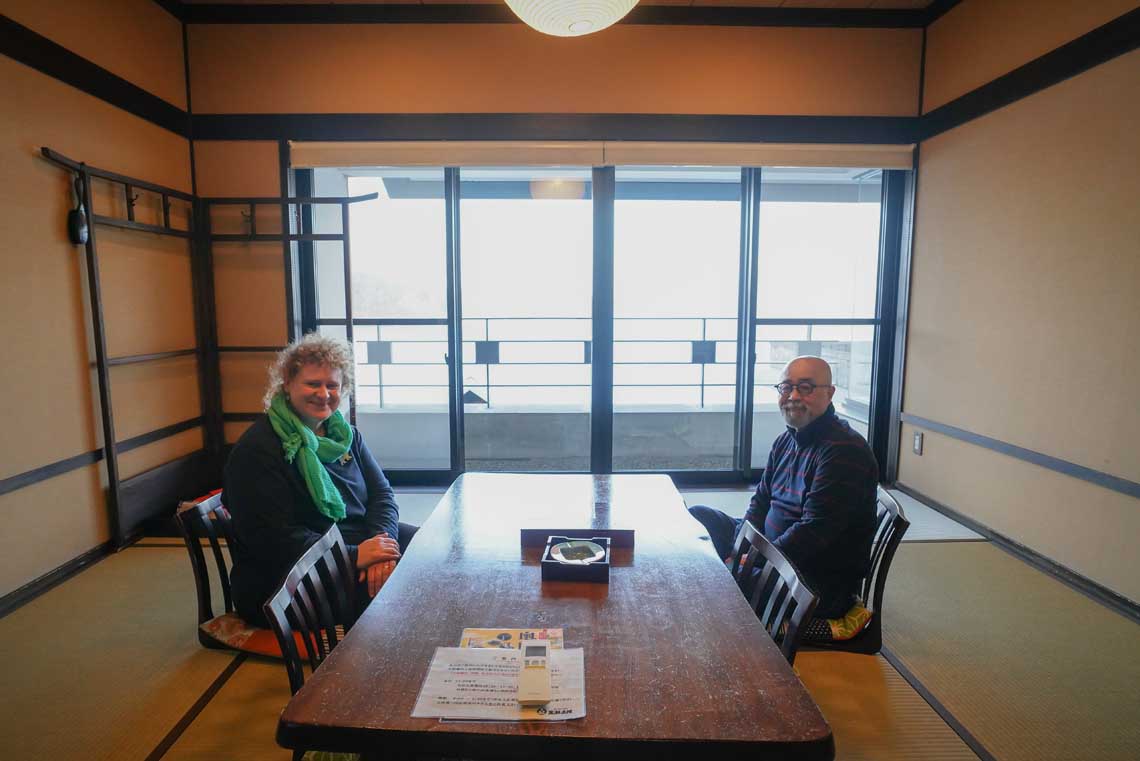 I start to feel exhausted and decide it's time to head to the hotel. On arrival at Kuroshio Honjin. I take in a wonderful deep breath at the beauty of the ocean from the hotel. Staff are very friendly and welcoming. Entrance to the hotel is wheelchair friendly. Two staff members even clean my wheels with the utmost care and politeness before I enter onto the old polished wood floors. Elevator access to my room is a breeze. I can easily wheel into my room, and into the barrier free friendly shower and toilet area. The beds are a perfect height to transfer from my chair and there is enough room to get in and out of bed. The only thing is I can't take my wheelchair into the tatami room as there is a step, but a chair is provided which I can transfer to. All the rooms face the ocean so you will not be disappointed with your view.
Day Two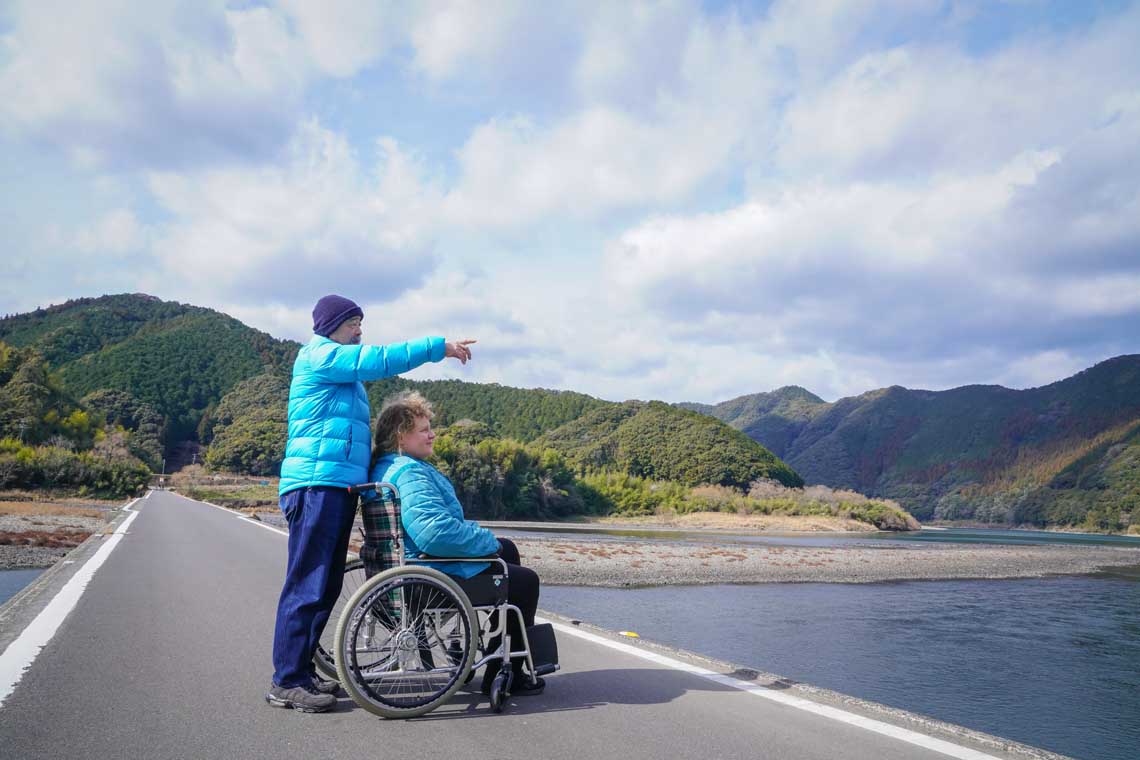 After a good night's sleep I am ready to explore more of Kochi. I start the day with a leisurely drive along the Shimanto River stopping off at bridges here and there, taking in life along the river.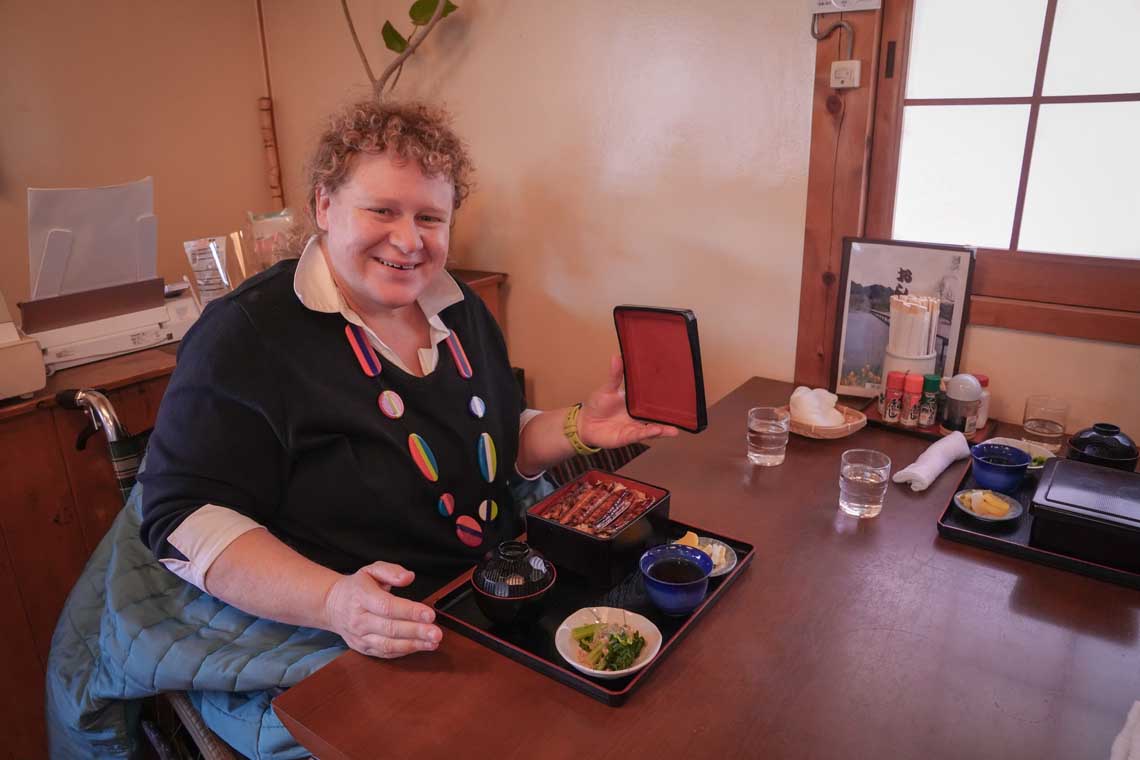 All the fresh air has made me hungry. Eel is on the menu for today. If you haven't tried it yet, I recommend you do so at Sakoya Restaurant. Parking is right out the front and it is easy to wheel up the slight ramp, straight to a table. A nourishing meal which satisfies all my senses. Gochiso sama deshita! (Japanese for "Thank you for a great meal.")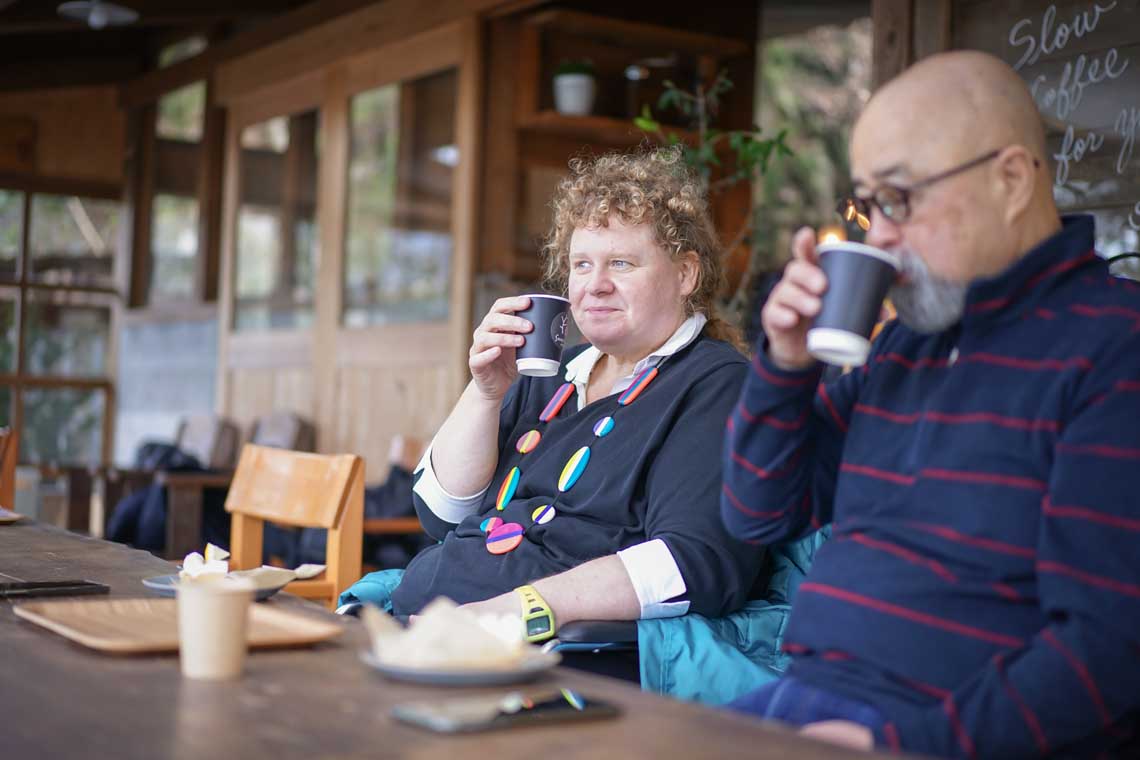 I like a coffee after my meal but not so many local Japanese restaurants serve good coffee, if at all. Luckily, a short drive away is a hidden cafe,Shade Tree Coffee. I wheel in without problems and know I will be happy here for an hour or so. Relaxing background music , views right out over the river and great design features make me feel right at home. I order the Shimanto lime pie and today's brew – it is lip smacking delicious. This is a good place!
Feeling absolutely full and refreshed after my coffee, I'm ready for the long drive to the very Southern part of Shikoku. I feast my eyes on ocean waters so blue I feel I am back in Queensland, Australia. I speed wheel down to Kashiwajima Bridge which connects Shikoku to Kashiwajima Island enjoying the fresh ocean breeze on my face. I stay a good half an hour taking in the view and all the glorious colours.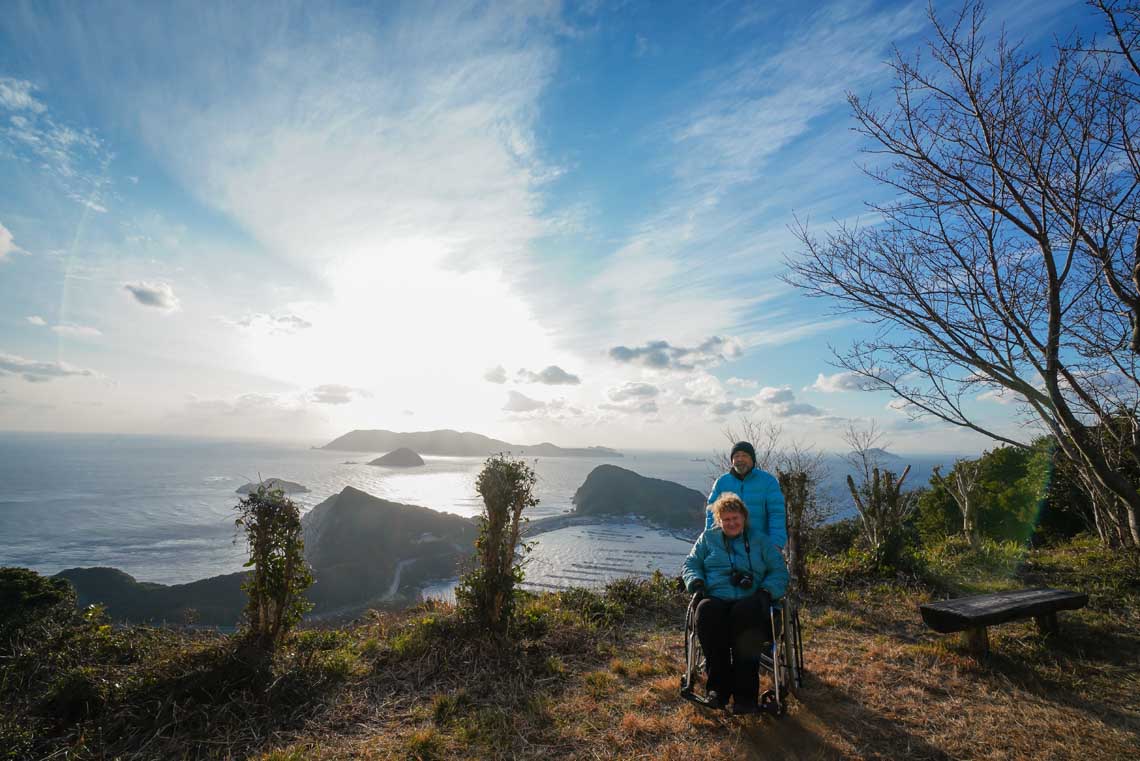 Next stop is up to the Odoyama Observatory area which greets me with a spectacular view of the Pacific Ocean and surrounding islands. On a clear day you can even see Kyushu, Japan's third largest island. I am a bit disappointed there is only stair access up to the higher open observatory look out but I most certainly enjoy my view.
Heading down the highway back to Nakamura Station area I spot a few wild monkeys on the road which are always a thrill to see. Driving down the mountain I am gently swayed to sleep. I awake only when the driver politely tells me, "we are here!" Oh my! Did I really sleep all the way? What did I miss!?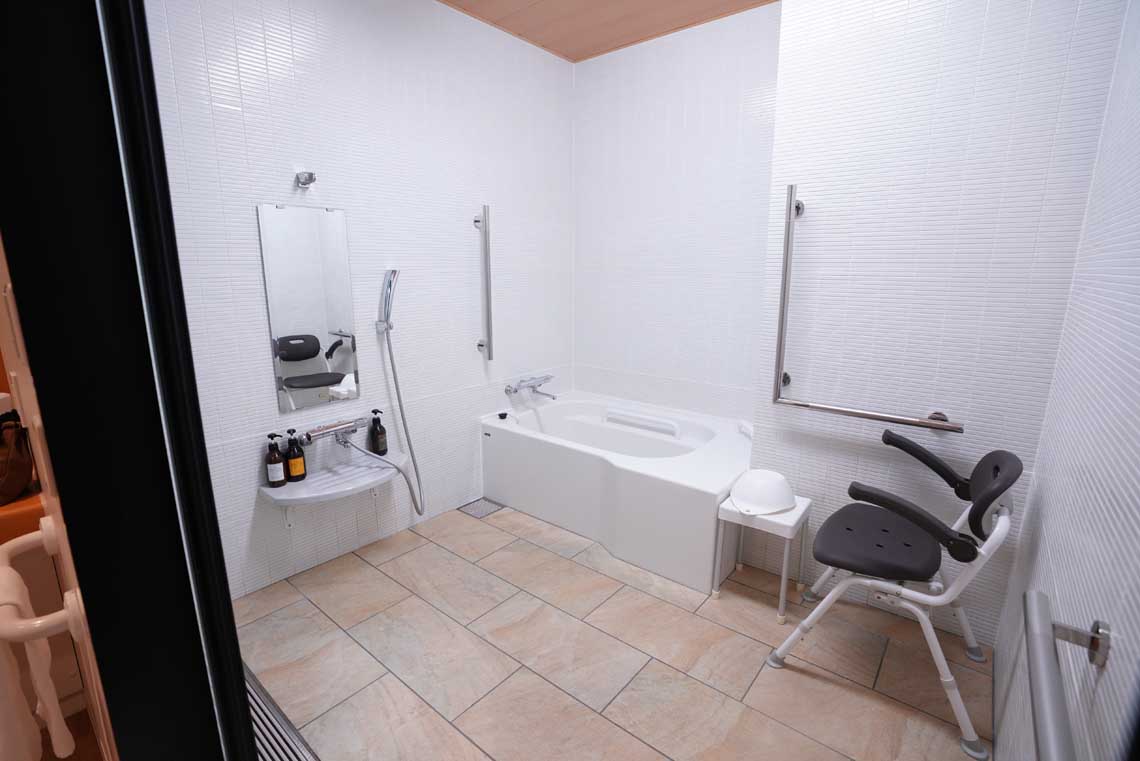 The hotel for tonight is Hotel Sun River Shimanto. Well! What a lovely surprise. It is one of the best barrier free hotels I have seen in Japan.
The room is well laid out and spacious. There is plenty of room to manoeuvre my wheelchair around with ease. There is even a nice little deck I have access to. The toilet and bathroom area is especially impressive: clean, new, lots of room and super easy to use.
The hotel is located next to a huge souvenir shop/grocery store that is fun to look around and grab a few gifts and local snacks.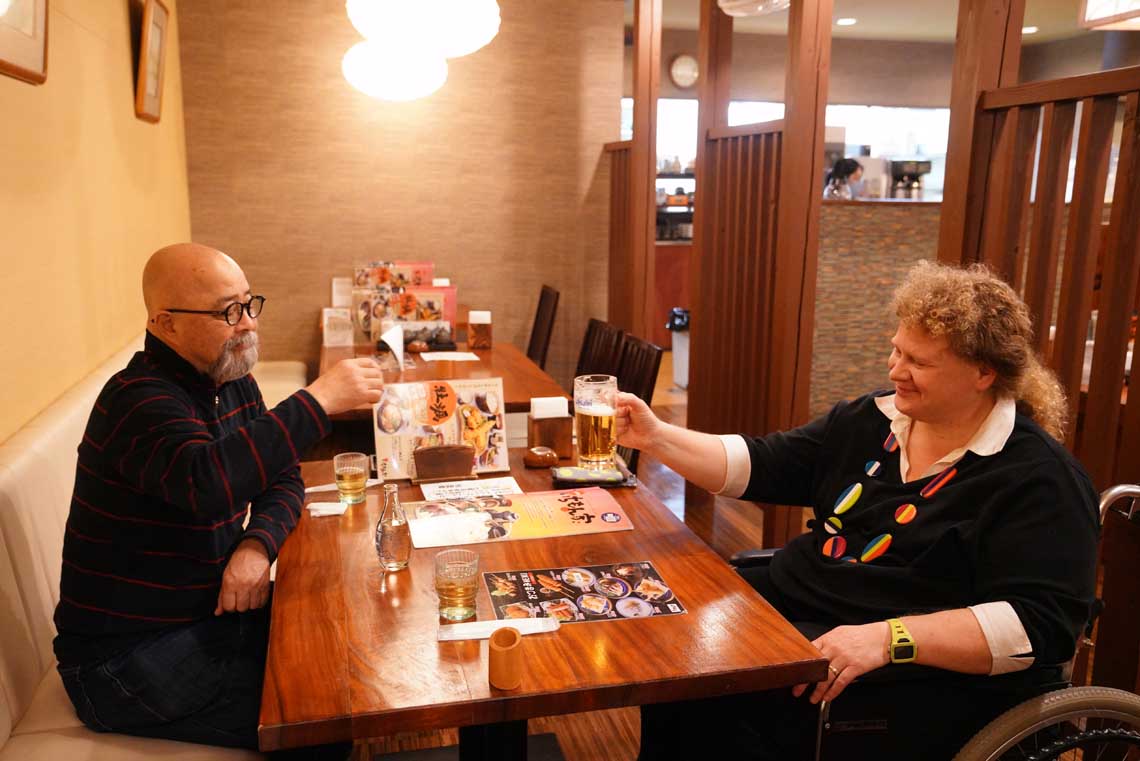 Dinner tonight is in the same complex as the hotel, an easy wheel from the front of the hotel. Ichinomiya serves fish and seafood caught in the region and has something for everyone. I'd like to point out the toilets here as it is the first time to see such huge barrier free toilets and one each for male and female. These toilets are also connected to the souvenir shop. ( I know right!? Getting excited about a toilet!)
Day Three
Another fantastic night's sleep and I am ready to enjoy the drive back to Kochi City. Despite it being a long drive back, Japan spoils us with good roadside facilities for coffee breaks and even in the countryside, well equipped barrier free toilets are available.
I spot Kochi Castle in the distance as we arrive back in town. Unfortunately, most castles in Japan don't have wheelchair access so I admire it from below.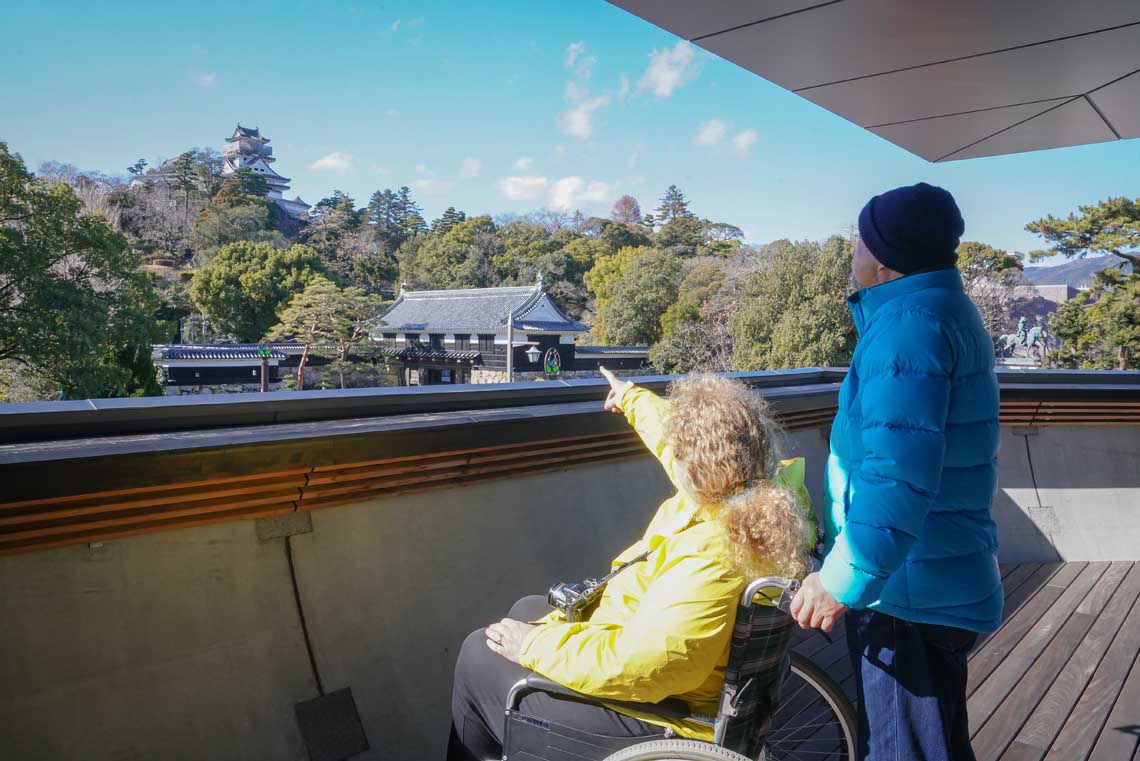 A lazy last day, I decide to check out the Kochi Castle History Museum. The museum is wheelchair friendly and English audio guides downloaded to a phone or a supplied iPad allow me to enjoy looking around at my own pace. From the outside cafe terrace the castle is in direct view.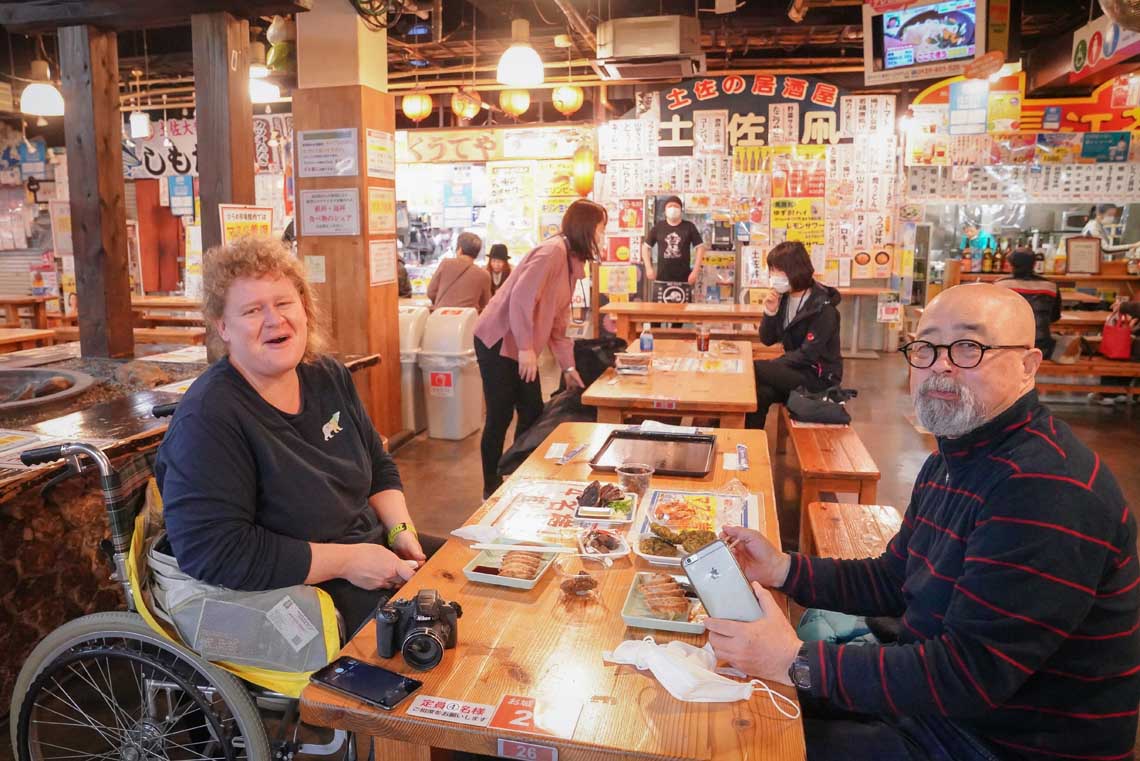 One must not miss a visit to the Hirome Market, filled with 65 stalls selling food, drinks and local products. I am lucky it is off season and easy to wheel through to find a table that fits the wheelchair. I imagine this place to have a chaotic atmosphere at other times. I pick up a few food items I have never tasted before – fish hearts, freshly flamed bonito, deep fried seaweed and more. A fun feast it is!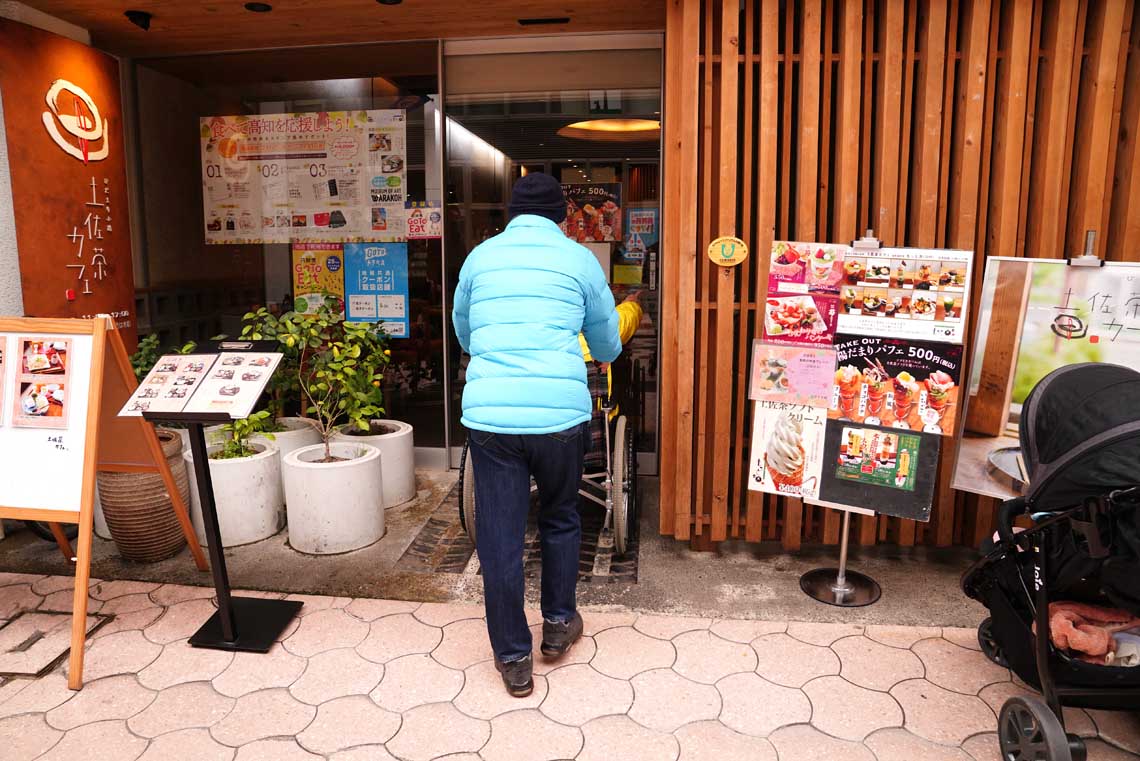 You guessed it, time for a coffee and I am lucky the Tosa Cha cafe is just out the door and down the covered arcade. No coffee served here but I decide it's a perfect way to finish the tour with some local grown green tea and sweets instead. I delight in the wonderful presentation of my tea and the delicious speciality of the day dessert.
The tour comes to an end. What a fantastic trip around Kochi! I tuck the experiences, the views, the tasty treats and the people I met along the way into my heart and soul and continue on my journey……
If you would like a professional, well thought out barrier free tour designed for you, the team at Omakase are the best!
As Dr Seuss says, "Oh the places you'll go!"
---
If you are interested in visiting Kochi, be sure to leave a comment or start a conversation in our forum.
---
A note from Omakase Tours:
We have recently undertaken two trips to Kochi Prefecture in order to inspect the accessibility of the facilities and sightseeing spots in the region. Our hope is to provide advice on how to make Kochi more accessible to all, as well as creating a new barrier-free wheelchair friendly tour.
In order to create meaningful and genuine feedback, we enlisted Sarah Nishina to help us. She has lived in Japan for almost 30 years and is fluent in Japanese. She has also travelled to 46/47 Japanese prefectures and has taken part in numerous monitoring tours in the past. After suffering a devastating injury, she was confined to a wheelchair for almost a year in 2019. She understands the struggles that one faces when navigating Japan in a wheelchair and she was able to provide us with much valuable advice. Here we present in her own words, her impression of day one of her Kochi tour.